I'm a little ashamed to say it, but I really like LEGO Friends. Set aside all the stereotypical girlie stuff… all the hair brushes, lipsticks, makeup mirrors, etc… and they're just plain fun.
What I love best about them is they add a new array of bright and bold colors to the traditional LEGO bricks. I'm the first one to get lured by the siren call of bright colored bricks calling my name on the brick wall at the LEGO store. I have no idea what I'd do with them, but I just want to buy a bunch. So, of course when I saw the LEGO Friends Advent Calendar, I was drawn to the set.
LEGO introduced the LEGO Friends Advent Calendar back in 2010 when the line first launched. Since this is the first year we actually purchased advent calendars, I thought it'd be interesting to see what the sets have offered from year to year, so I created a quick comparison chart below:
As you can see, the pattern for LEGO is 2 minifigures and a pet with each set. The rest of the slots are filled with mini builds or simple accessories to add to or replace missing pieces in your personal sets. I see it as the advent calendar that has gotten the least amount of love when it comes to minifigures and build quality.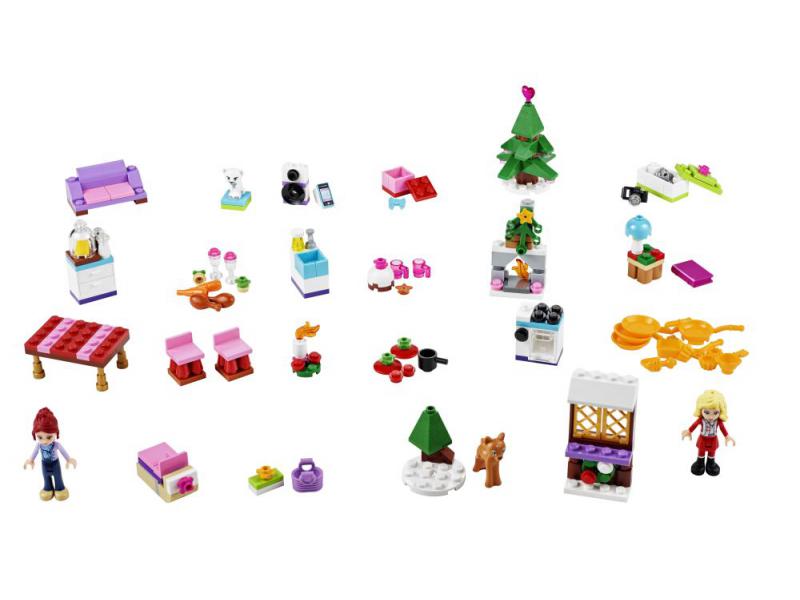 The 2014 calendar does try to make up for it by providing more small builds to enhance your LEGO Friends' sets; however, I suspect once the girl starts opening the days, I will find most of them disappointing. While the sleds, kiosk, fireplaces and couches are a bit more substantial builds, the super simple cooking sets, baskets and presents look underwhelming to build and somewhat of a let down in comparison to the other advent calendar offerings. The builds also seem to be a bit of a rehash from year to year.
I may not be the only one who feels this way, as it seems they're trying to improve the quality of the builds. For example, instead of providing extra grooming accessories for the LEGO Friends minifigures a third year in a row, they changed it up to include cooking accessories instead. Also, an extra pet replaced the snowman in this year's build.
Have you purchased the LEGO Friends Advent Calendar in previous years? How did you feel about the mini builds?