I love getting questions from readers. Most of the time, I know the answer immediately, but sometimes, like with this question, I have to do some research. So when a reader recently asked me where they could sign up to purchase a LEGO monthly box subscription for their grandchild, I went straight to the internet to do some searching.
You've seen the boxes for other things. You know…the monthly gift boxes which bring you anything from razors to Japanese treats. Did you know there is something like that out there for LEGO? So while there is no official LEGO monthly box subscription, there are other alternatives!
Here are your options… oh, and by the way, there are affiliate links below. They are no cost to you and they help us keep this website running. Win! Win!:
Brick Loot was the awesome brain child of 9 year old Parker Krex. Created as a way to fund his LEGO hobby, Brick Loot grew from an idea to reality with the support of his parents.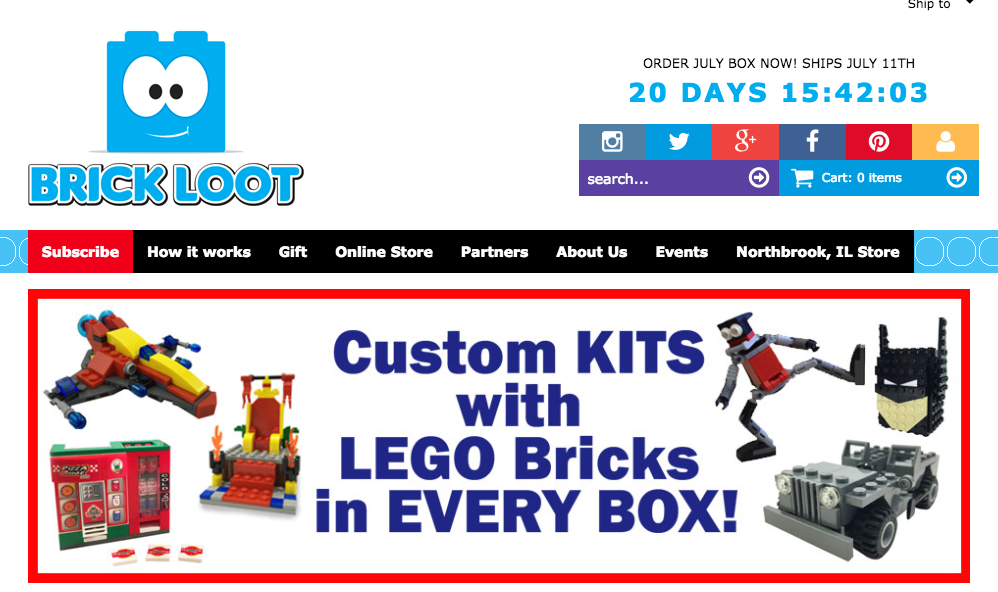 What you get with Brick Loot
While you will know the theme, but not the contents, you can expect to receive 4 – 8 items each month to include:
Custom Kits with LEGO Bricks
Kits by famous LEGO Designers
Brick Loot Exclusives
LEGO Accessories
Custom LEGO Minifigures
Their boxes ship out on the 10th of each month.
How much is a Brick Loot box subscription
Brick Loot boxes start at $24.95/month for a 12 month subscription. You still have to pay $6 shipping and handling (USA, that is – other countries can expect to pay more) on top of that, so it is more like $30.95 a month.
If you're not ready to jump in head first, you can purchase a one-month subscription for $27.00 + $6.00 shipping for a grand total of $32.00. You probably drop almost that much if not more with monthly visits to The LEGO Store, so maybe you should try a box for a month just to see!
Brickbox
While Brick Loot is a singular LEGO monthly box subscription, Brickbox does that… and a little more! The provide an item to fit all price points.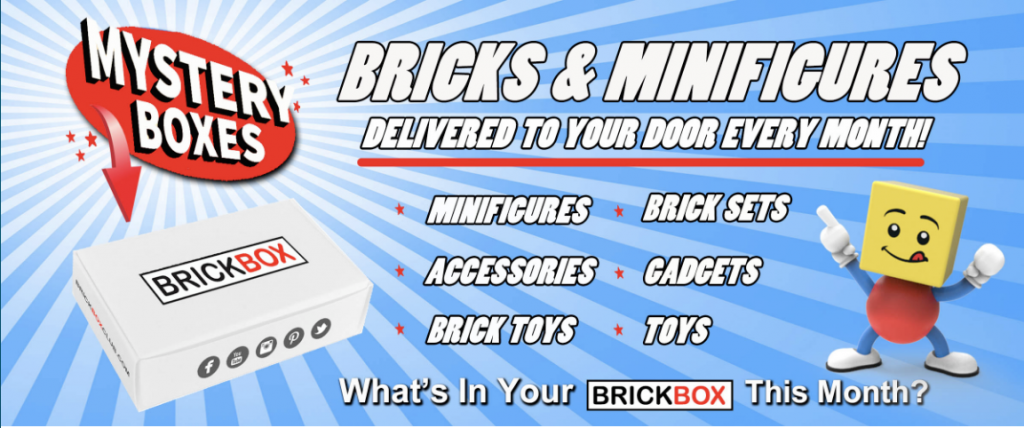 What you get with Brickbox
You can get Brickbox in 3 different flavors:
Brickbox
This is the standard box which comes with a licensed BRICK set, at least one Minifigure and lots of other items like: exclusive accessories, mixels, blind bags, notebooks, and more.
Brickbox Mini
Brickbox Mini is a smaller version of their premium Brickbox product. One month you may get a set, another a collection of minifigures, etc…
Brickbox Loot
Brickbox Loot was designed for the minifigure collector. Each month, you'll get a Minifigure and accessories. These can also be custom designs or original LEGO rarities.
How much is a Brickbox subscription
The standard Brickbox starts at $29.99 + $9.99 shipping to North America, bringing the total to $39.98.
The mini Brickbox starts at $19.99 + $9.99 shipping to North America, bringing the total to $29.98.
The Brickbox Loot package starts at $13.99 + $5.99 shipping to North America, bringing the total to $19.98.
After doing all this research, I might make plans to purchase a LEGO monthly box subscription for Mr. The Family Brick for his upcoming birthday. I think it would make a fun treat for any LEGO fanatic.
Have you purchased LEGO monthly box subscription from either of these websites? What did you think of it?