One of our favorite things about LEGOLAND was the minifigure swap. (Yes, I know, I know. I have *yet* to write my post on our visit to LEGOLAND last year, but I promise I will get that written soon!) It was one of the things we looked forward to on our visit and it completely lived up to our expectations. So you can imagine how excited we were to read about the LEGO Minifigure Swap Monday event in stores on January 18th from 4-6pm!
This is the first time I've heard of LEGO Stores hosting a minifigure swap. It's (or now "was") something exclusive to Merlin Entertainment properties (LEGOLAND Amusement Parks). I'm glad LEGO corporate finally decided to make it an event!
What Is A LEGO Minifigure Swap
A minifigure swap is an event where you can bring any minifigures you would like to trade with others. The hope is that you'll come across someone who has a minifigure you would like and that you have a minifigure for which they wouldn't mind trading. You guys then trade your minifigures and voila! That's the minifigure swap.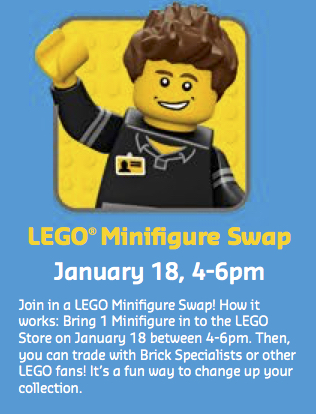 For the official specifics, the calendar says:
Join in a LEGO Minifigure Swap! How it works: Bring 1 Minifigure in to the LEGO Store on January 18 between 4-6pm. Then, you can trade with Brick Specialists or other LEGO fans! It's a fun way to change up your collection.
For those of you that have visited the LEGOLAND parks, you know there was no limit on the amount of minifigures you could swap. The husband and I brought a bag of 40+ minifigures and easily swapped them all.
However, for the LEGO Stores sponsored event, they do specifically say "bring 1 minifigure". For those of you that have more than one you want to trade, I'm sure it wouldn't be a problem if you brought your extra ones in a ziploc bag just in case. I'm sure we'll bring quite a few.
Is anyone else attending the LEGO Minifigure Swap Monday event? What minifigure are you hoping to find?