The other day I notice I was getting a lot of traffic to the website. I've only been blogging Mondays, Wednesdays and Fridays due to my current work schedule. So I found it odd to see a spike in traffic on a day that I didn't blog. Come to find out, someone posted a LEGO Disney Minifigures sneak peek photo on Reddit!
We've all been anxiously awaiting this particular set of minifigures. I can't think of one person who's not in love with the idea of having a LEGO Mickey or Minnie Mouse.
If you recall, last November there was some news of an official set coming down the pipeline. Along with that came speculation as to which characters exactly would be recreated in minifigure format. Go on and read the blog post. I'll hold your spot here.
Fortunately, we no longer have to wait. Below you'll see the image of one of the leaked photos for the minifigure series.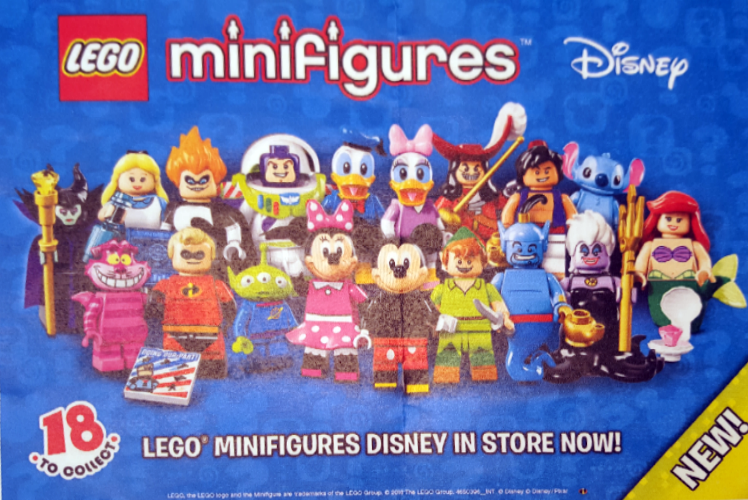 You can see the other one here although it looks like the only thing different is the camera angle.
The list is as follows:
Maleficent
Alice
Syndrome
Buzz Lightyear

Donald Duck

Daisy Duck
Captain Hook
Aladdin
Stitch
Ariel
Cheshire Cat
Mr. Incredible
Pizza Planet Alien
Minnie Mouse
Mickey Mouse
Peter Pan
Genie
Ursula
Interesting note – it looks like Ariel will be the first Disney princess to be in LEGO Duplo, LEGO minidoll and LEGO minifigure formats! Who knew the sea siren was so popular…
The hubs and I have already decided we will probably purchase at least two boxes of minifigures. I can't imagine that the girl will be in any way okay with us opening all those minifigure bags and her not getting a full set of the minifigures with which to play.
We also have tons of friends who are Disney fanatics, including a couple who run a Disney Travel Agency in their spare time. Suffice to say, we will have plenty of people to gift this awesome series.
Sadly, that is the scope of the news I have for you regarding the LEGO Disney minifigures sneak peek. I wish I had more to share, but as I mentioned in the title, this was only a sneak peek. Hopefully, LEGO will come out with more official news soon.
So, now that you've seen the LEGO Disney Minifigures sneak peek, which ones will you be hunting down?
---
Want more on the LEGO Disney Minifigures? Check out the feel guide below!