Yesterday, I rushed out to my local Target store in hopes of finding some LEGO Minifigures Series 12 on clearance for $1… I got a hot tip. Sadly, I couldn't even find one single minifigure bag in the whole store. I checked all the clearance sections twice. I swear the security guard thought I was casing the store and decided to follow me around the second time. Anywho…
When I found my way to the Christmas food gifts section, I also ran across a section with stocking stuffer toys. In the abundance of cubbies, I saw something I've never seen before… a Duplo polybag!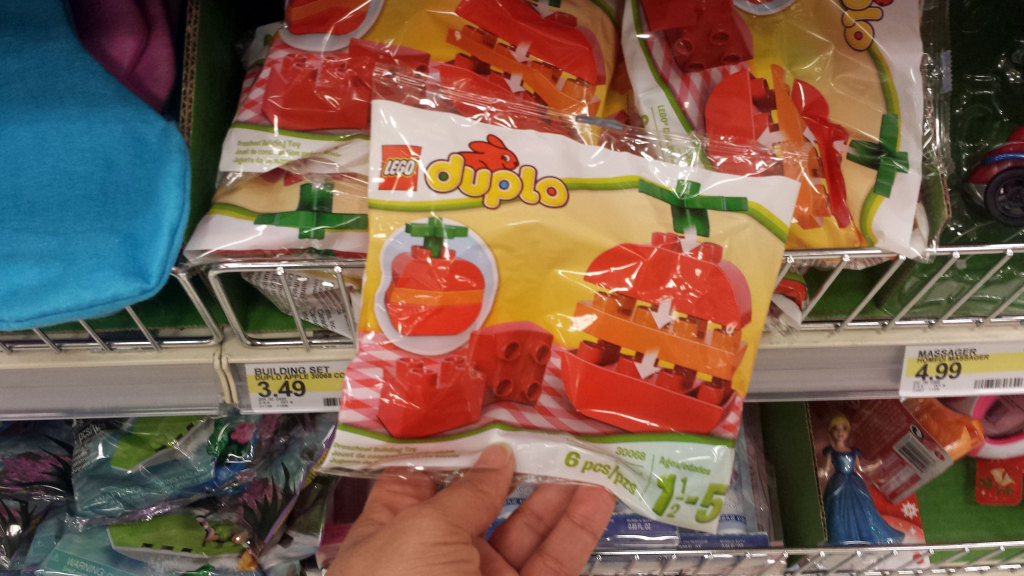 But apparently this isn't a new thing… I've just never seen it before. Turns out this set, the LEGO Duplo Apple polybag, is an extra from a qualifying Duplo purchase promo in the LEGO shop from April of this year.
It's definitely an awfully cute set and I would have considered purchasing a few for our Operation Christmas Child boxes this year had we not already filled them up.
So, if you're looking for a stocking stuffer for little potential LEGO enthusiasts, you should run out and grab this polybag before it's all gone.
Have you seen other Duplo polybags or are you like me and this was your first sighting?