I hope you all had a wonderful Martin Luther King Jr. holiday! That's what we celebrated around these parts yesterday. While it's been freezing cold (northerners don't laugh at that), the smell of charred meats was still in the air. We spent the day with the girl, taking her to do some things she's been asking to do for a while. One of them is an indoor play area, so I took the opportunity to finally finish this post: The LEGO Adventure Book, Vol. 1 book review.
You should know this post does contains affiliate links, helping us pay some of the costs for maintaining the site. So if you like the review and it influences you in any way to purchase the book, we would be grateful if you used the shopping links in the review below!
This was one of those books I picked up last holiday season from our local library. I've had it for a while which has been great, since it meant the three of us could actually take our time pouring over the book.
The LEGO Adventure Book, Vol. 1: Cars, Castles, Dinosaurs & More! book is book one in a series of LEGO books written by Megan Rothrock. So if you see other "The LEGO Adventure Book" covers and they don't match this one, just know they're probably later volumes in the series.
Description of The LEGO Adventure Book, Vol. 1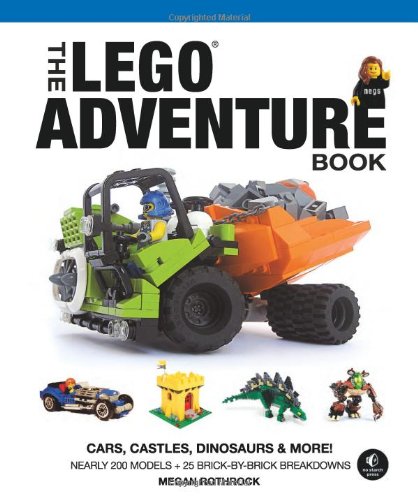 The description from the publisher, No Starch Press, has more information on what you will find in it:
Unleash your imagination as you journey through the wide-ranging world of LEGO building with The LEGO Adventure Book. This inspiring tour is filled with bright visuals, step-by-step breakdowns of 25 models, and nearly 200 example models from the world's best builders. Learn to build robots, trains, medieval villages, spaceships, airplanes, and much more. Whether you're brand-new to LEGO or have been building for years, this book is sure to spark your imagination and motivate you to keep creating!
What You Will Find in The LEGO Adventure Book, Vol. 1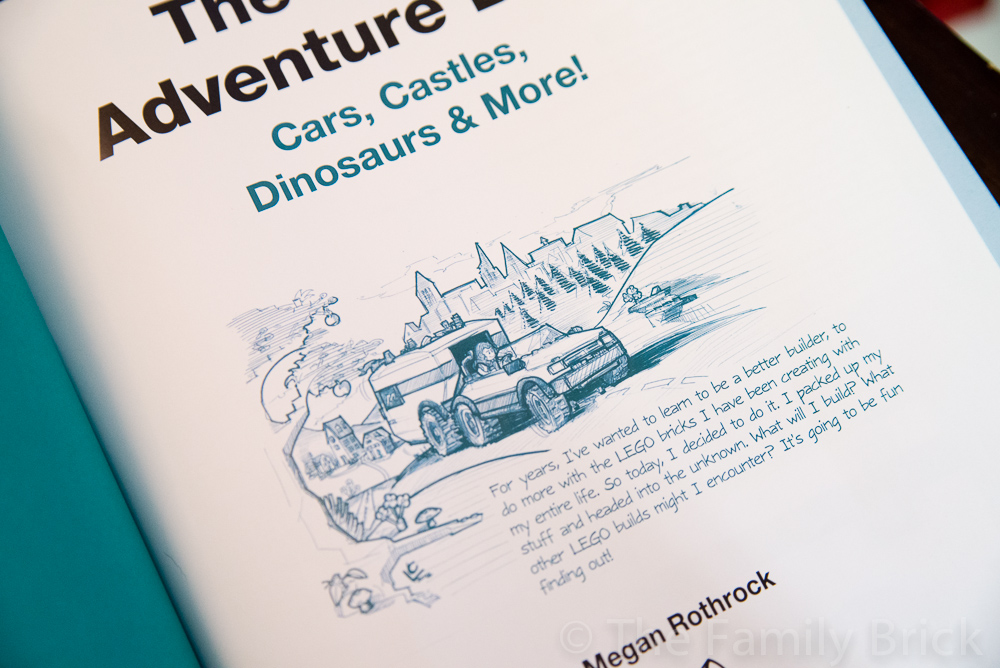 The author starts the book out with a short introduction to set the mood of the book:
For years, I've wanted to learn to be a better builder, to do more with the LEGO bricks I have been creating with my entire life. So today, I decided to do it. I packed up my stuff and headed into the unknown. What will I build? What other LEGO builds might I encounter? It's going to be fun finding out!
The description above is accompanied by a sketch of Megs, the main character in the book, driving a convertible car with a trailer hitched to the bumper.
Within the book, Megs takes a tour of LEGO worlds and meets up with amazing LEGO builders while they show her a few new things. Breaking up the builds and instructions are small dialog sections where Megs talks to the other builders or to the reader about what is on the immediate page.
The book is split into 14 chapters. This is what you'll find in each of the chapters and a sample page from each chapter:
Chapter 1 – Building the Idea Lab: Idea Lab, Brickbot, Lab Furniture, Transport-o-lux, 4×4 Truck, trailer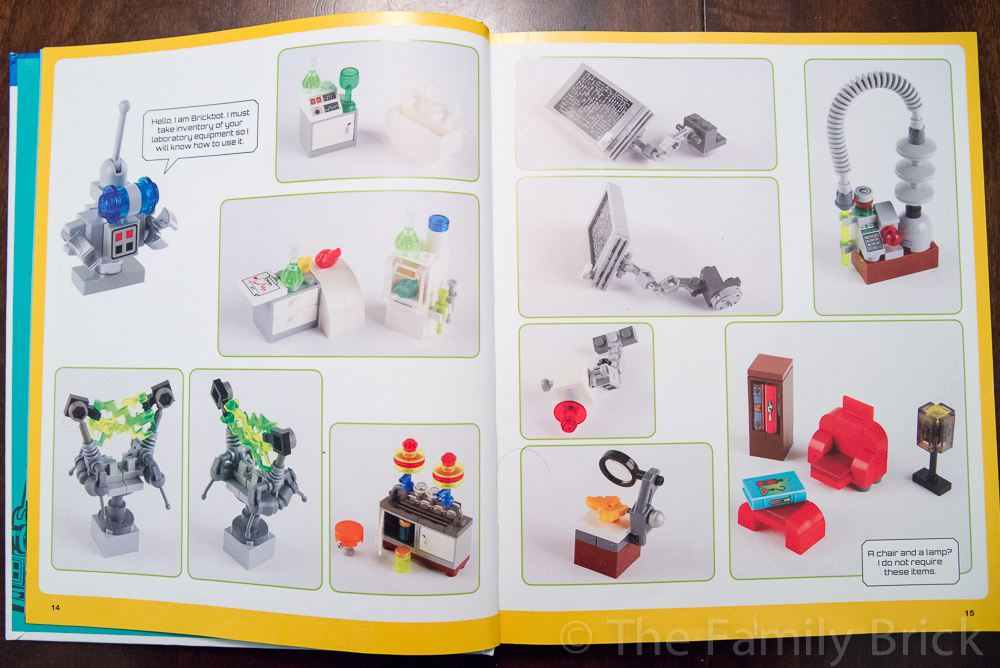 Chapter 2 – A LEGO Town: cable car, coffee shop, zoo buggy, bridge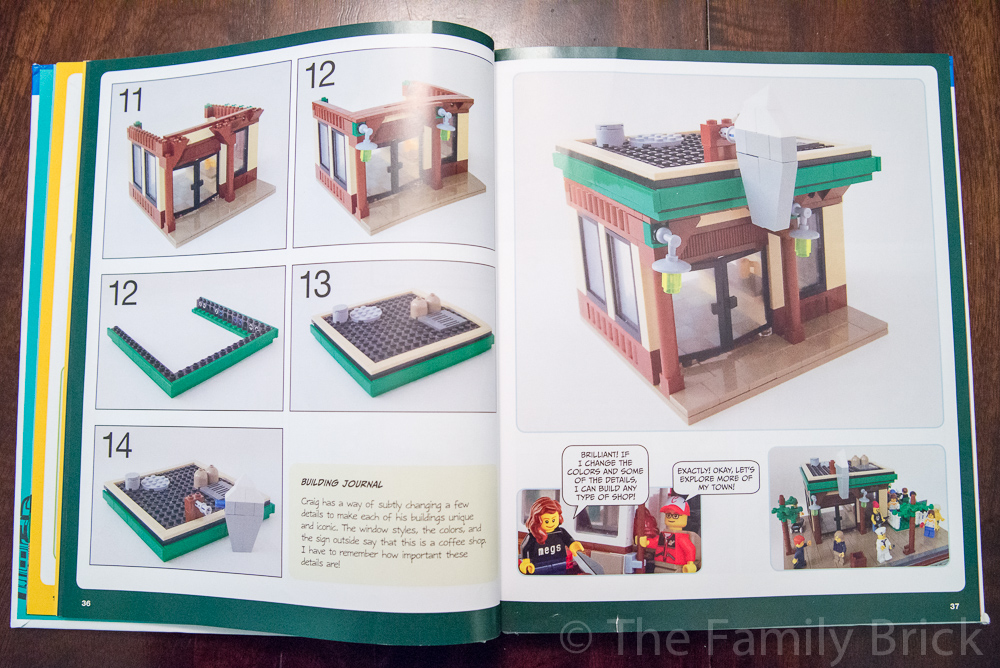 Chapter 3 – Hot Rods and Cool Rides: vehicles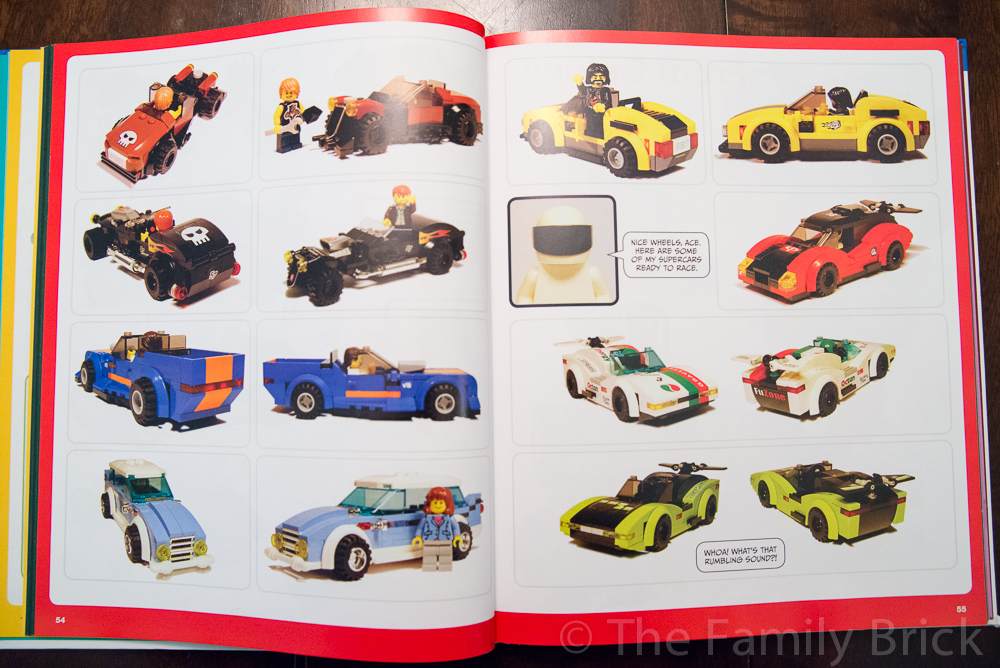 Chapter 4 – From Below!: digging equipment, lifts, loaders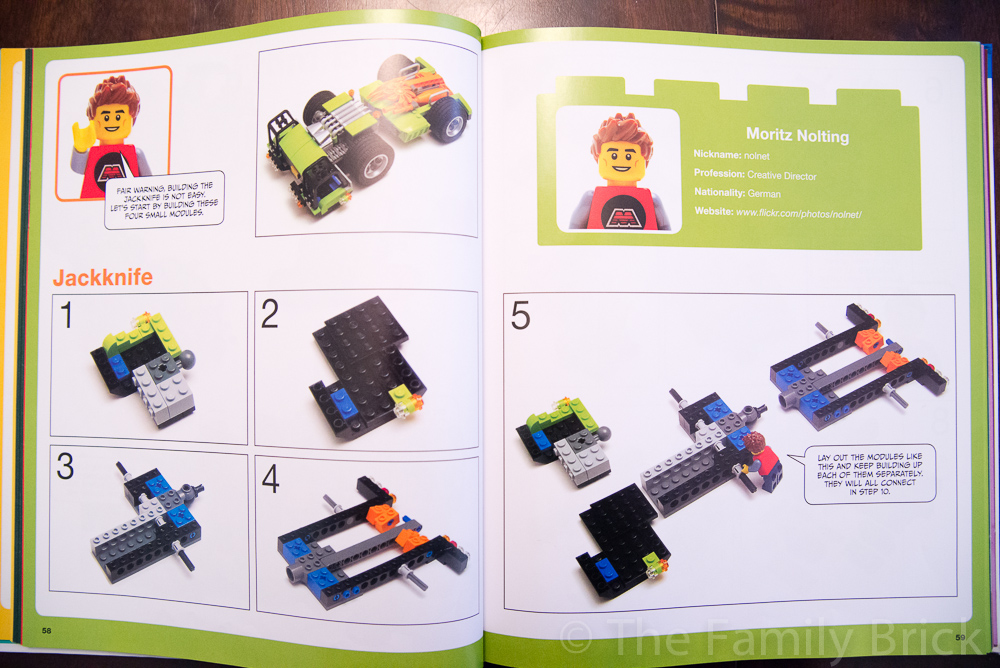 Chapter 5 – The Sky's the Limit: airplanes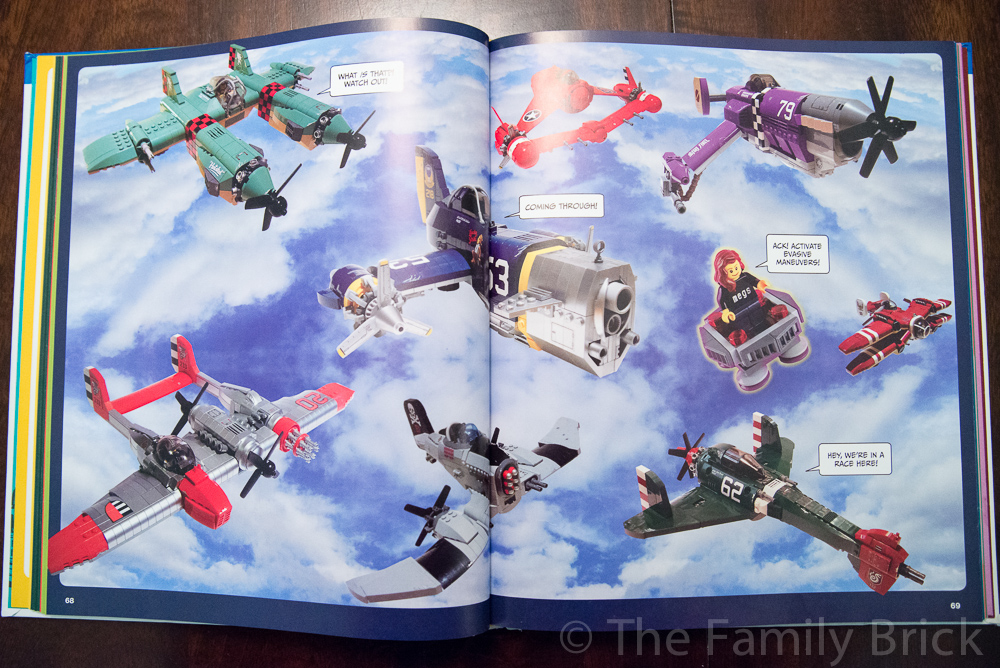 Chapter 6 – The Turtle Factory: space turtle factory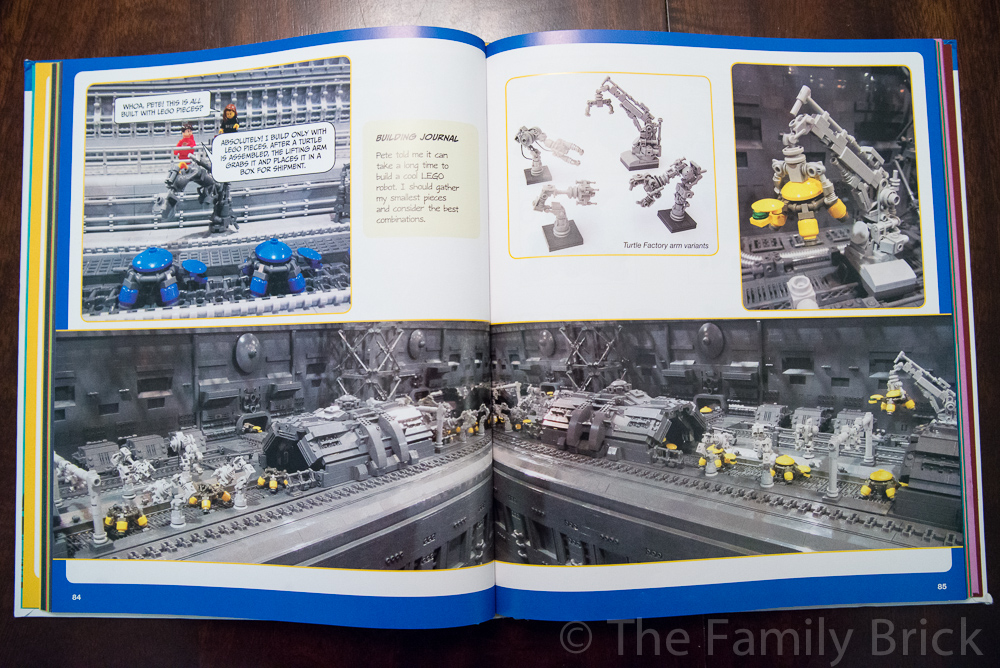 Chapter 7 – Starfighters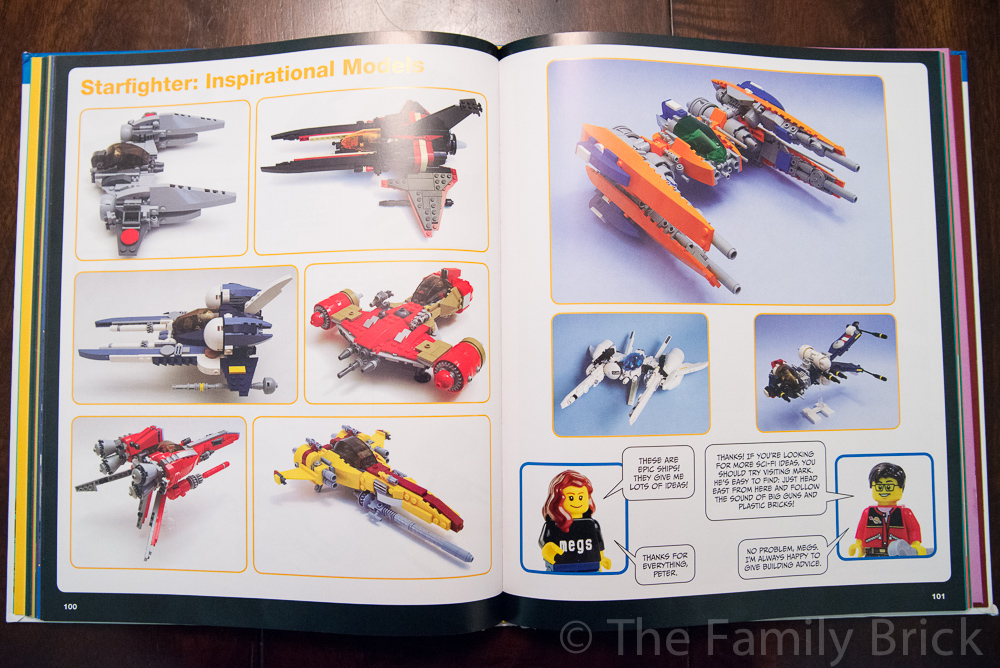 Chapter 8 – Mighty Mecha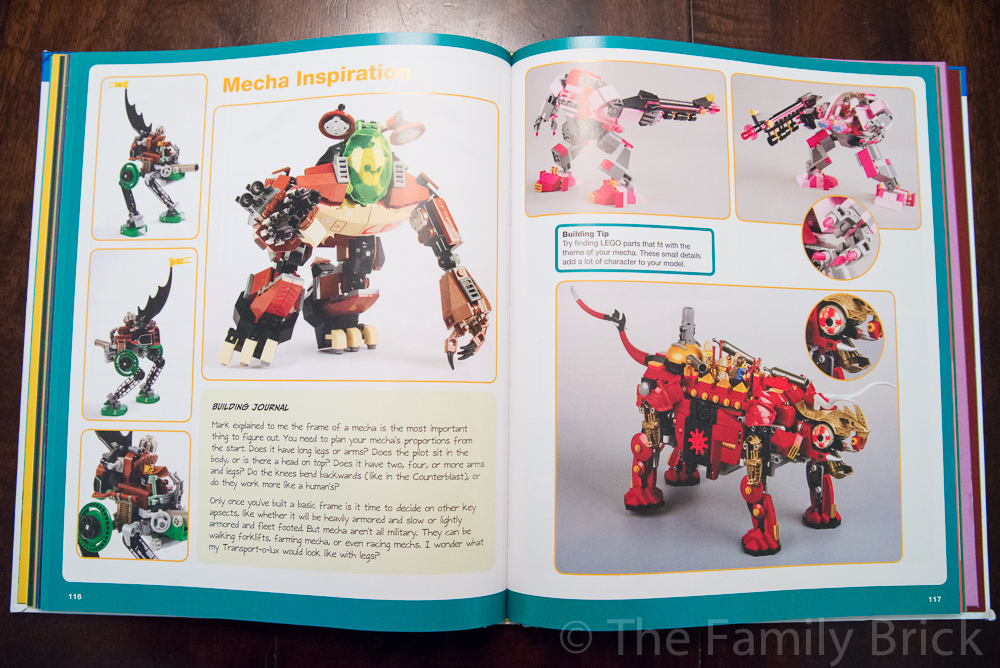 Chapter 9 – Medieval Village: merchant, wagon, butcher shop, Harold's house, hilltop tower, medieval market, woodsman's cottage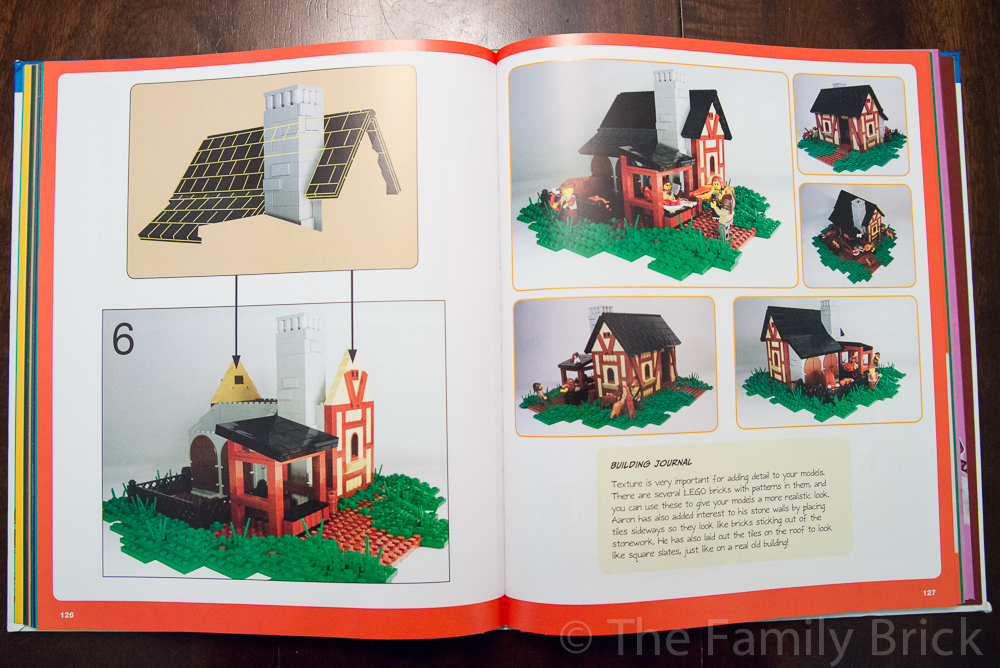 Chapter 10 – Triassic Park: safari truck, Pterosaur, Stegosaurus, T. Rex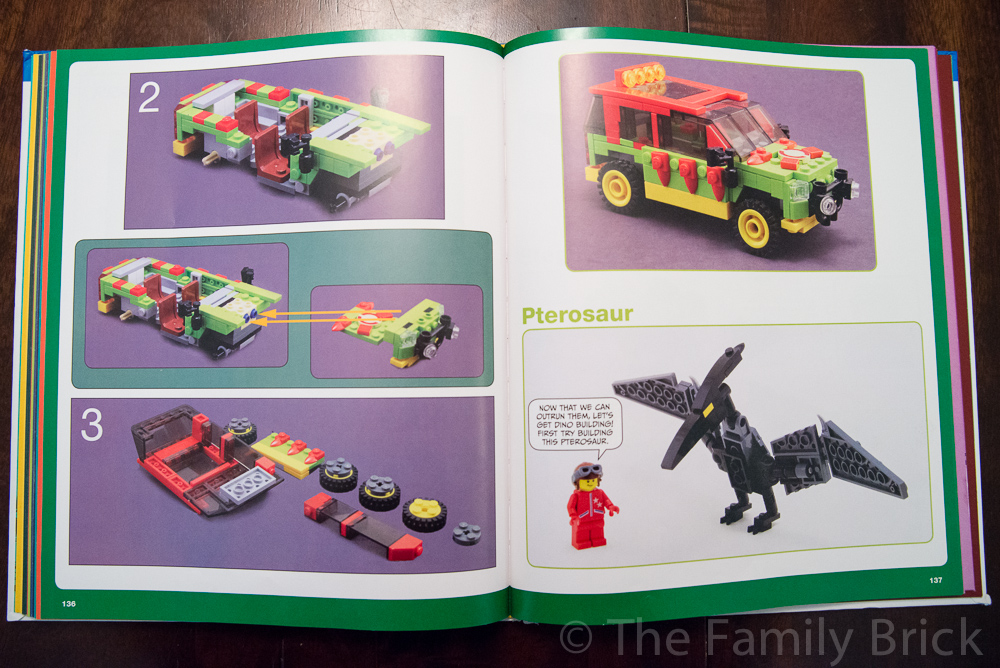 Chapter 11 – Making New Friends: curved wall, mosaic, grandfather clock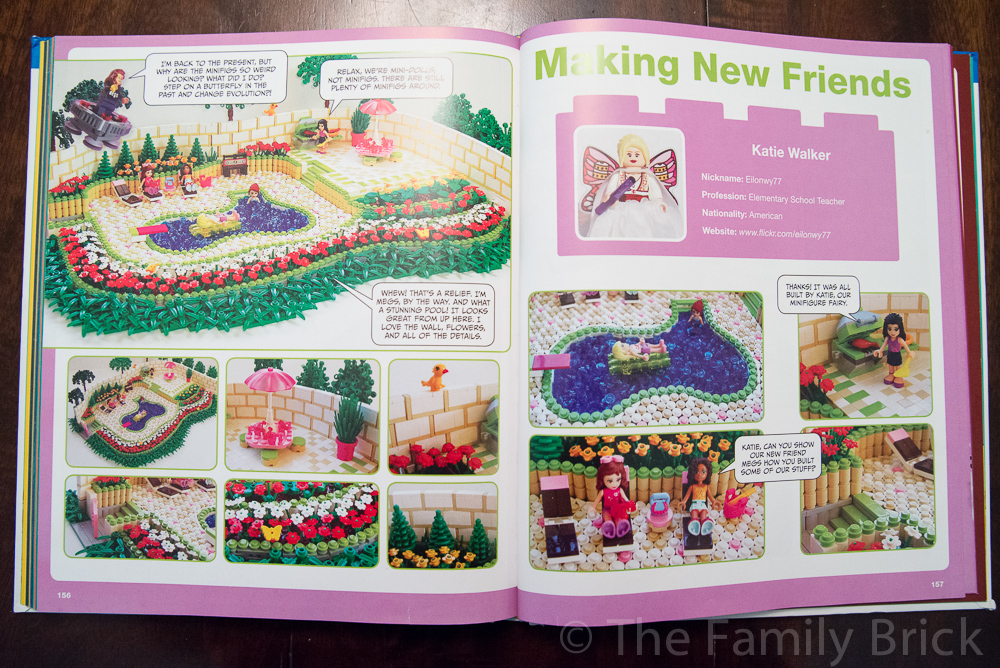 Chapter 12 – Full Steam Ahead: Jinty Tank Engine, Corfe Castle Station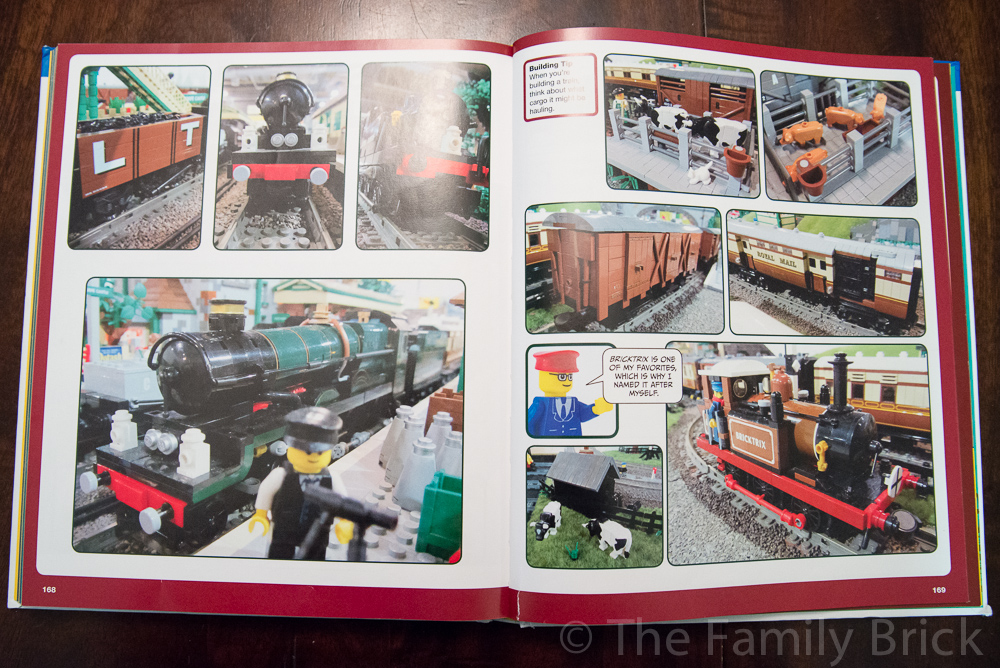 Chapter 13 – Steampunk: arms of toil, the iron legs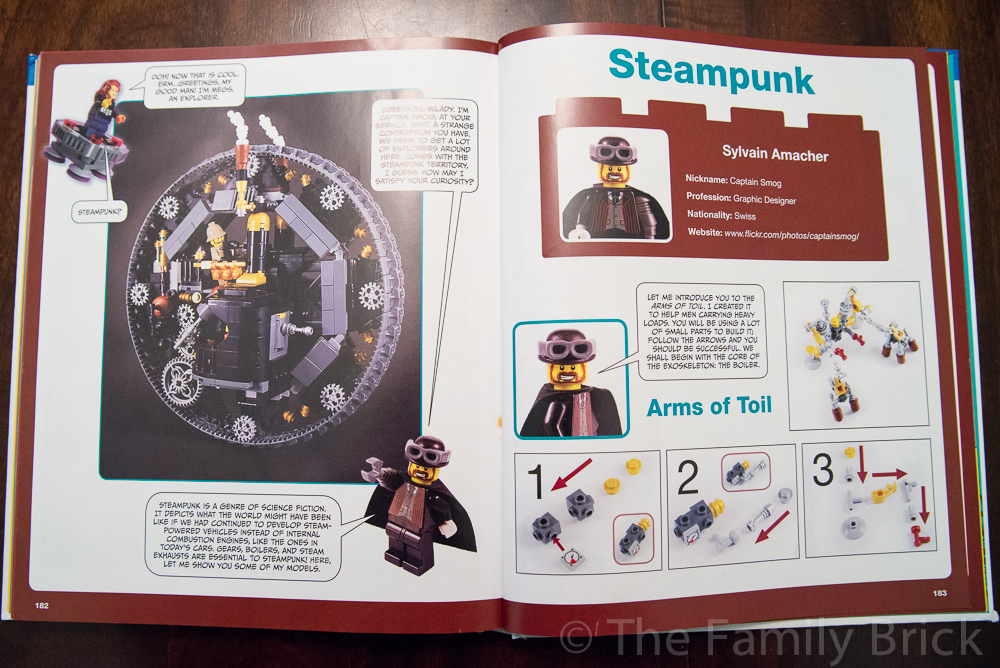 Chapter 14 – A LEGO Legend: thinking tower, idea temple
My Take on The LEGO Adventure Book, Vol 1
The book is rather nice in weight with the hardback binding. It easily makes for a nice coffee table book due to its visual appeal. Because of the amount of use, I think I would like all of my LEGO books to be hardback copies.
With a total of 200 pages, it's not just a picture book. It also comes with 25 different builds related to castles, space, trains, etcetera and examples from extraordinary builders.
However, while the book has beautiful builds, it does show a ton of specialty pieces in use. This makes it difficult for those kids who only have LEGO Classic Sets
 to create the exact builds using the instructions in the book.
Overall, if you just want inspiration, I found it to be a good book to have on your shelf. The 25 instructions make it a nice resource to reference to see how certain things are built.
As I mentioned previously, The LEGO Adventure Book Vol. 1
is just one in a three book series. If you're interested in reading a review for The LEGO Adventure Book, Vol 2, make sure to sign up for the mailing list below to be notified when I write the next book review:
Do you own The LEGO Adventure Book, Vol. 1? What is your take on this book?