How does getting a few LEGO related books for less than MSRP sound to you? Good, right? Well, you can do just that in the latest Humble Bundle from No Starch Press! Among your choice of no less than 4 LEGO books, you will also get books on programming for kids: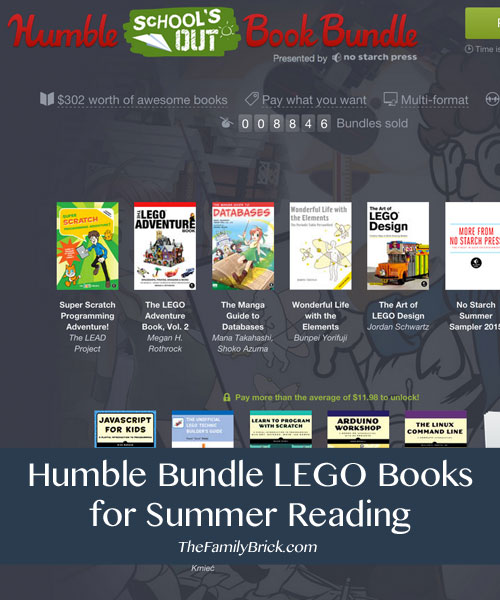 From the Humble Bundle page:
Humble School's Out Book Bundle presented by No Starch Press

How to spend your summer vacation. The school year may be over but that doesn't mean the learning has to stop entirely! Name your price for Super Scratch Programming Adventure!, The LEGO Adventure Book, Vol. 2, The Manga Guide to Databases, Wonderful Life with the Elements , The Art of LEGO Design, and the No Starch Summer Sampler 2015. If you pay more than the average price, you'll also get JavaScript for Kids, The Unofficial LEGO Technic Builder's Guide, Learn to Program with Scratch, Arduino Workshop, and The Linux Command Line. If you pay $17 or more, you'll receive all of the above plus The LEGO MINDSTORMS EV3 Discovery Book, Teach Your Kids to Code, and Automate the Boring Stuff with Python.

This bundle comes to you from No Starch Press, publishers of the finest in geek entertainment. Since 1994, they have published books on topics like LEGO, hacking, science, math, and programming for all ages.

Pay what you want. The contents of this bundle would cost you up to $302 if purchased separately, but here at Humble Bundle, you pay what you want.

Read them anywhere. These books are available in PDF and ePUB formats, meaning you can read them anywhere at anytime. Instructions and a list of recommended reading programs can be found here.

Support charity. Choose where the money goes — between the publisher and two charitable causes (EFF and Freedom of the Press Foundation) via the PayPal Giving Fund. For details on how this works, click here. If you like this bundle or like the fact that school's out and we got you covered, feel free to drop us some lunch money in the Humble tip jar.
We picked up the bundle since we were interested in the The LEGO Adventure Book, Vol 2. and The Art of LEGO Design. Looking forward to browsing through them this weekend.
However, don't wait too long…this bundle expires in 8 days! Then it will be gone forever.
What do you think of this bundle? Is it a good deal for you or not worth picking up?