This past weekend at Celebricktion, we unveiled our LEGO Winter Village MOC. It was awesome to see how many people were interested and stopped by our booth to check it out and ask questions on the build.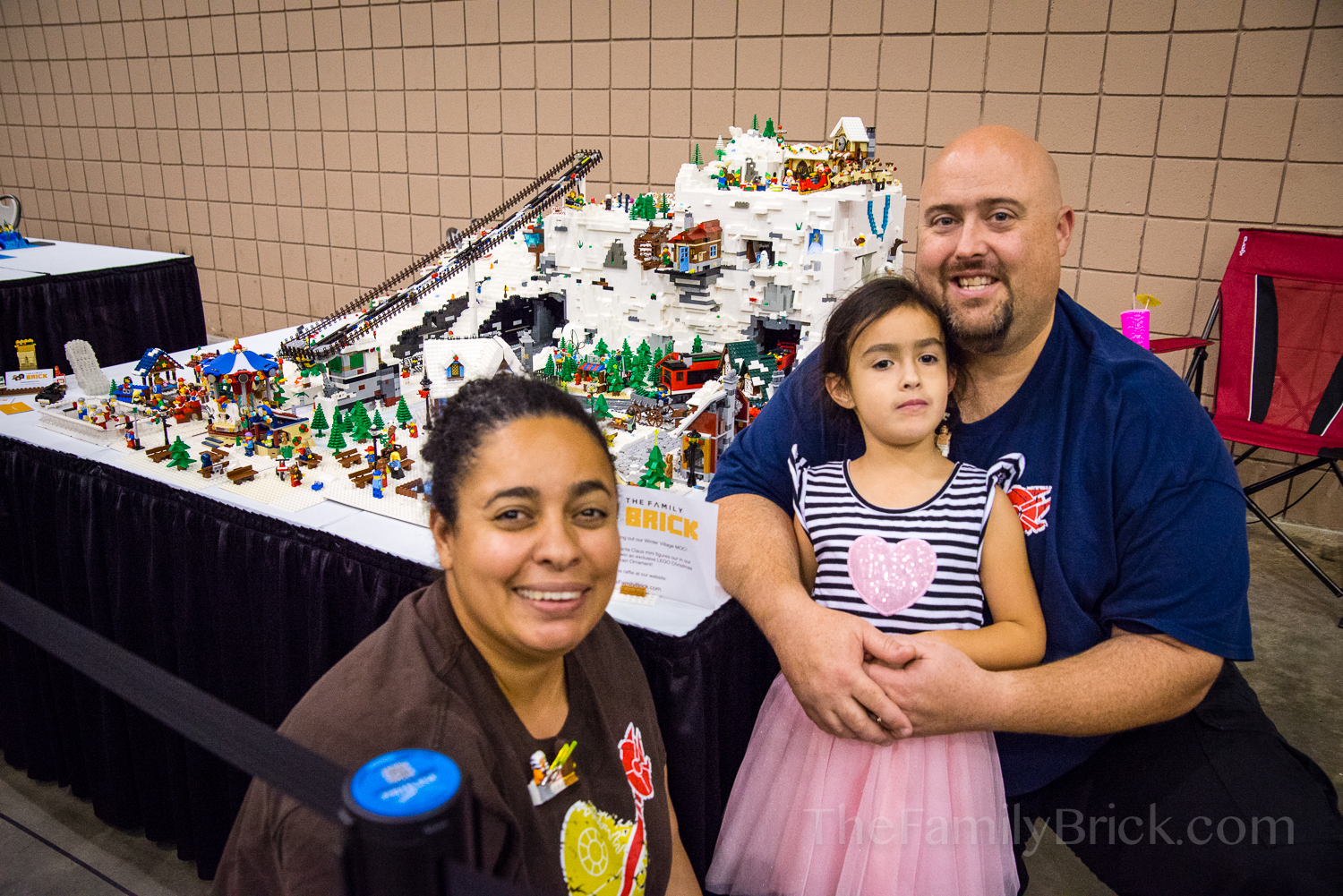 We really had a great time answering all the questions.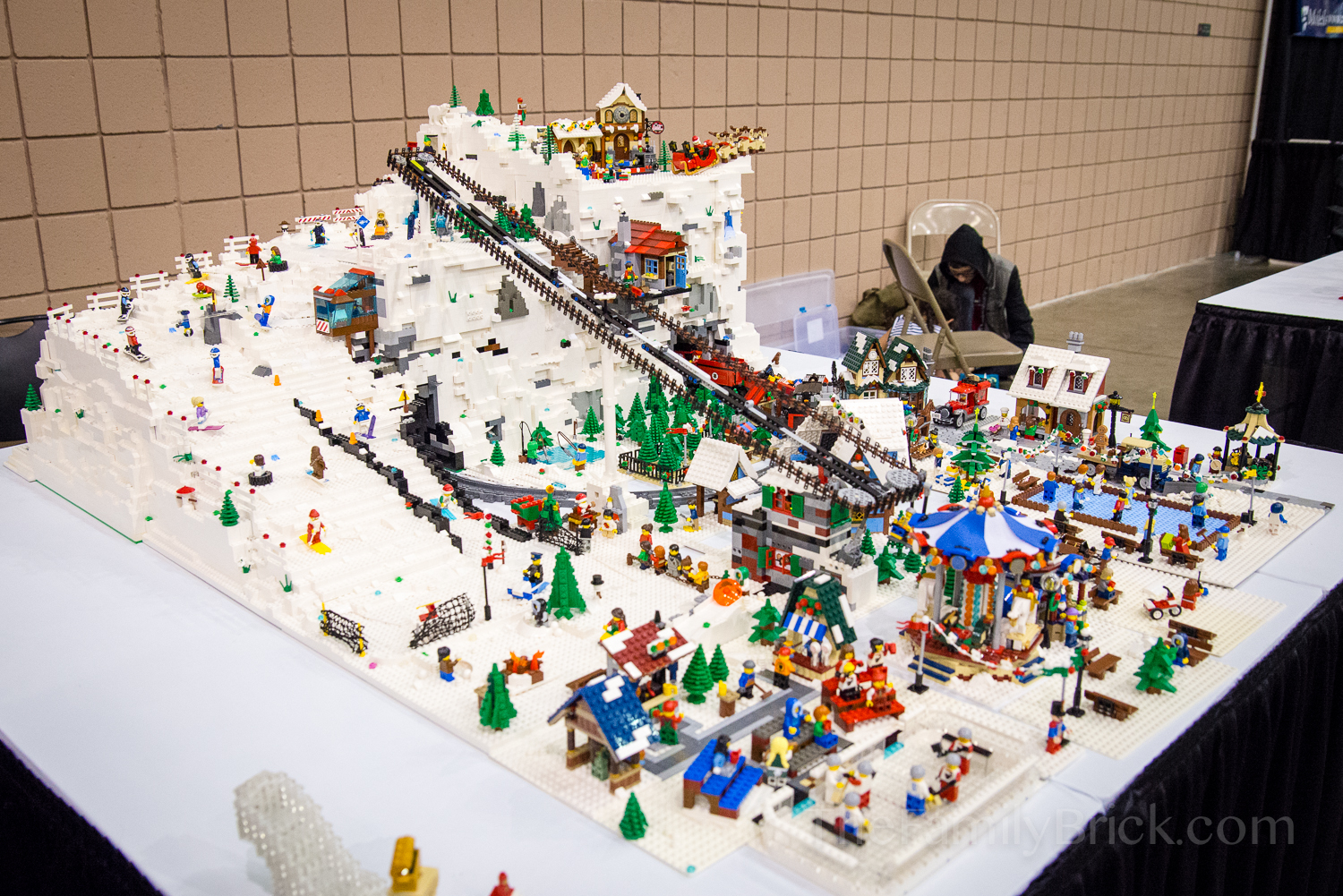 In case you were one of those that was too shy to ask your questions, here are a few we answered…
How Long Did It Take You To Build This?
We've been working on this MOC almost every weekend since last Christmas. It didn't start out to be something we were planning on exhibiting. That came later…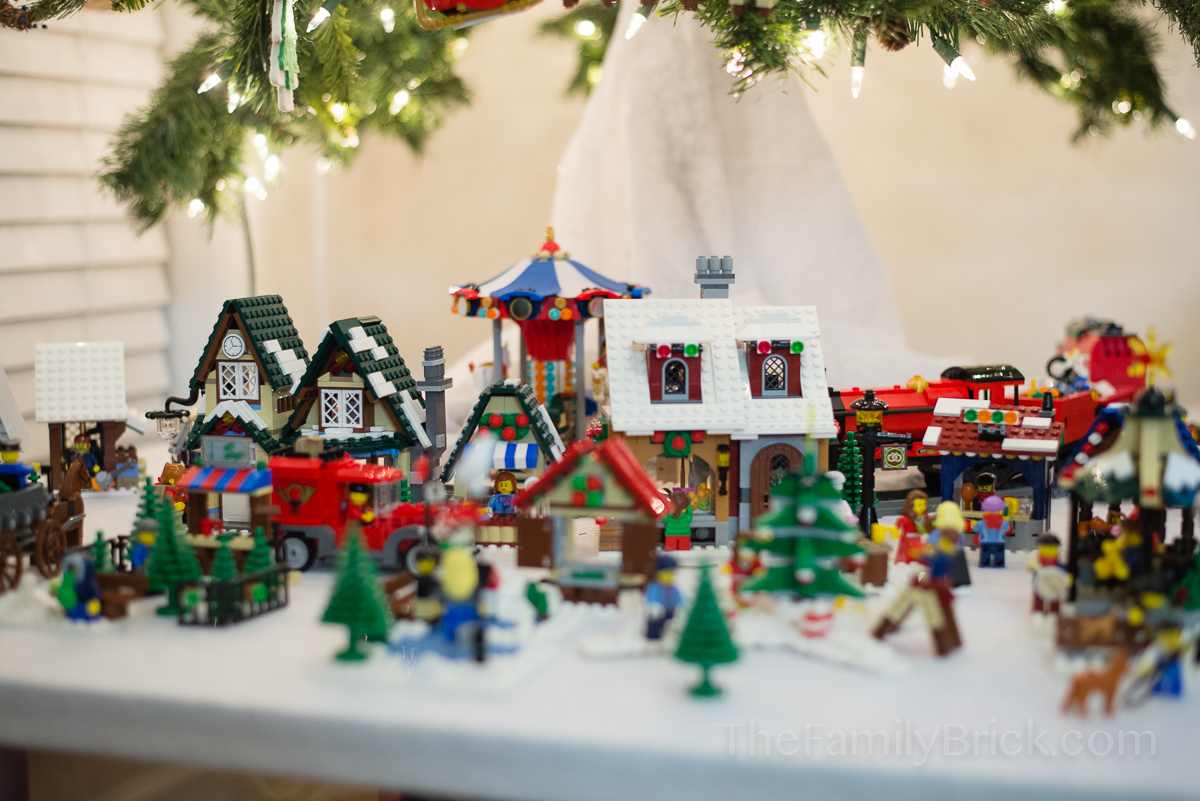 Last year, we had all of our LEGO Winter Village sets on a table under the Christmas tree. I turned to my husband and said, "Honey, don't the sets look a little crowded? What will we do next year when we need to add a new set? Why don't we move it from under the Christmas tree someplace else?" So the conversation proceeded something like this:
Him: "Well, where do you want to move them? We don't have a lot of space…"
Me: "How about behind the couch? We have about 4 spare feet there and if we take it a foot into the kitchen, we'll have 5 feet of space we can work with."
Him: "That's not a bad idea. Honey, you are so smart… what would I do without you?"
Well, he may not have said those exact words, but since this is my version of the story, that's what we're sticking with!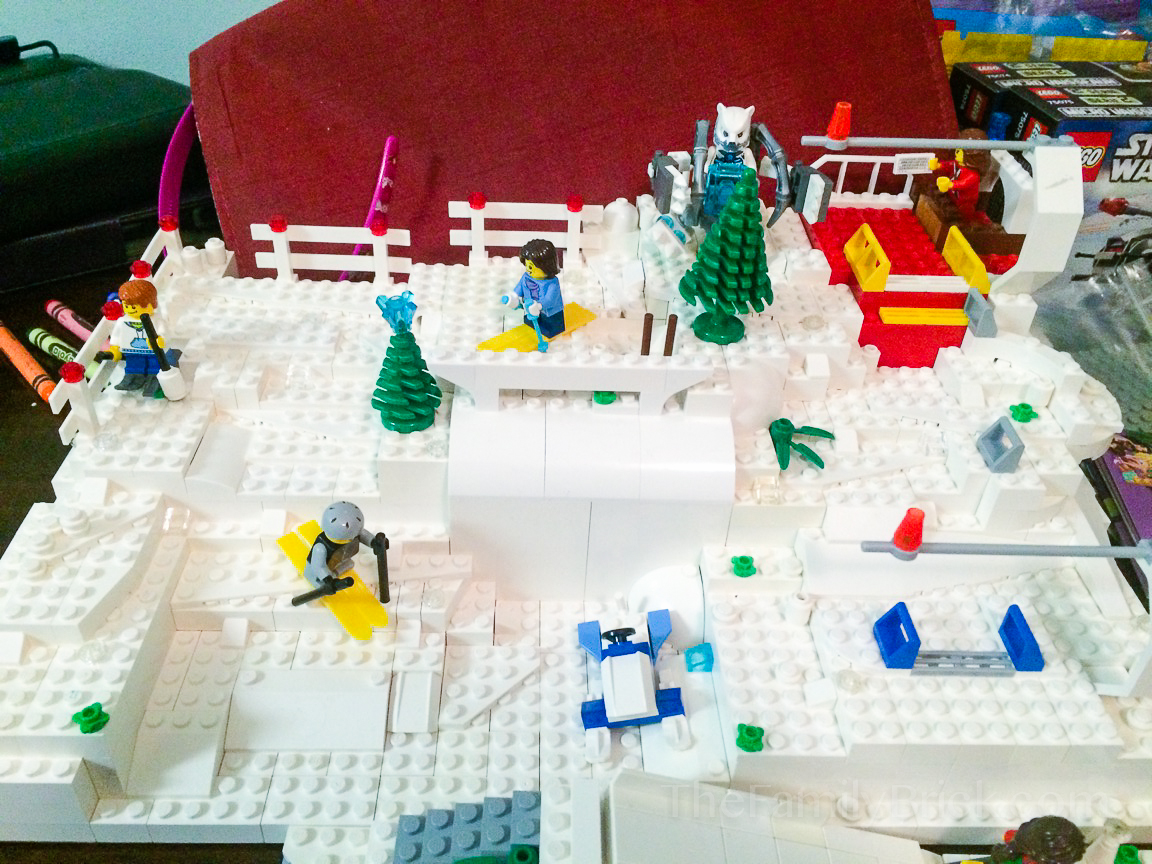 At the same time, the hubby was toying with the idea of making a ski slope, so he came up with this little beauty.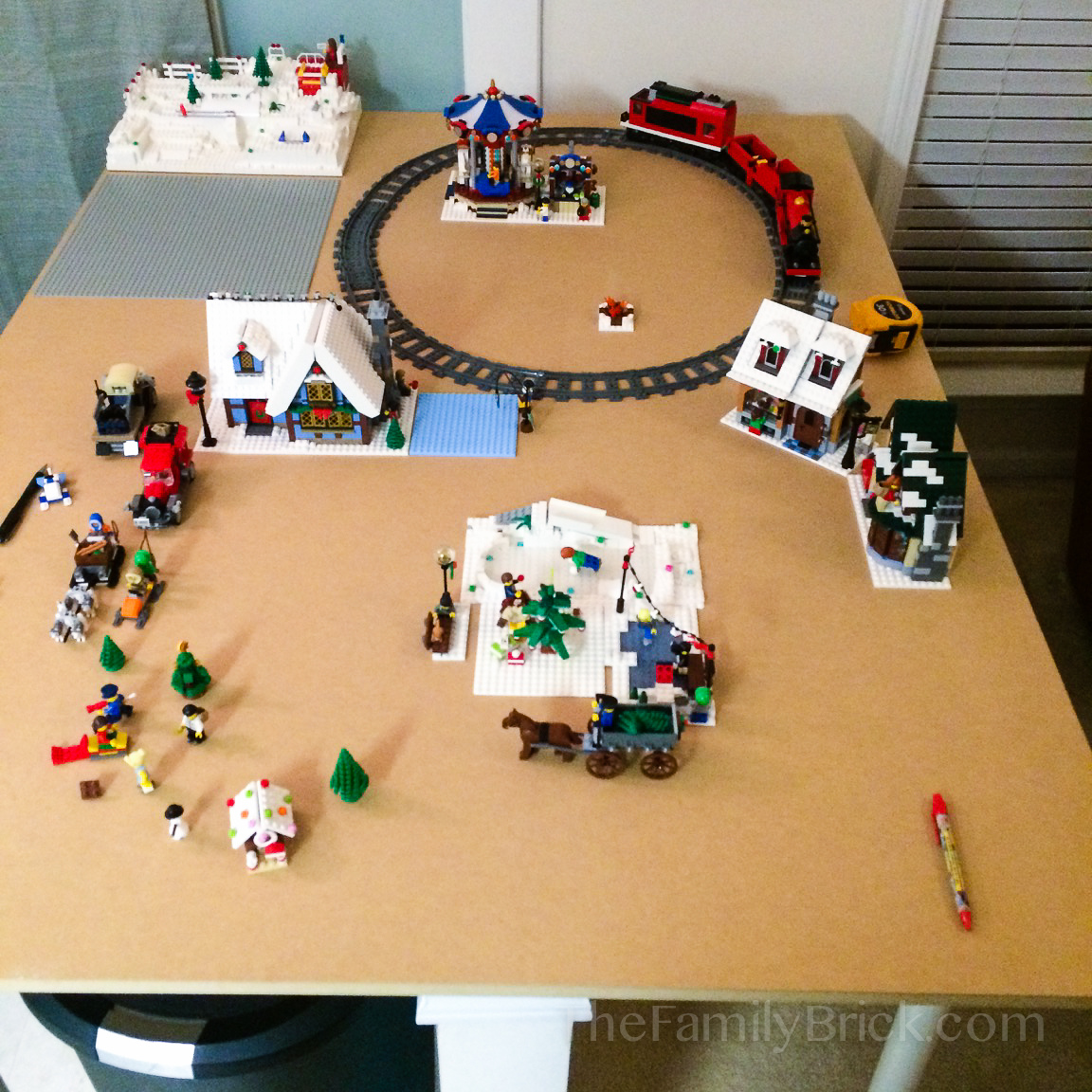 Once he made the table, we immediately put all the LEGO Winter Village pieces on it. Looks a little sad, doesn't it?
So then our next conversation went like this:
Me: Honey, why don't you push all the pieces forward. And what if we make a mountain range in the back?
Him: And we could make it so the train goes through the mountain!
Me: And what if we made a larger ski slope?
Him: Then I could make a running ski lift!
And with that we were off! We knew we needed white bricks to build the behemoth you see now, so we spent quite a few weekends visiting Bricks in Woodstock picking through finding parts we needed to build the winter village and to build other sets we wanted to create, like the Green Grocer we were trying to build at the time. Sometime in February, we found out about 2nd & Charles, where they sell used LEGO bricks as well and started making trips to Kennessaw, too.
We naively thought we'd be finished by February, but July rolled around and we still had this build sitting in our living room. Most of the large part of the build was done by then, but the ski lift took us 4 months, on and off, to find a functional solution for it to run reliably.
Is That Mountain All Bricks?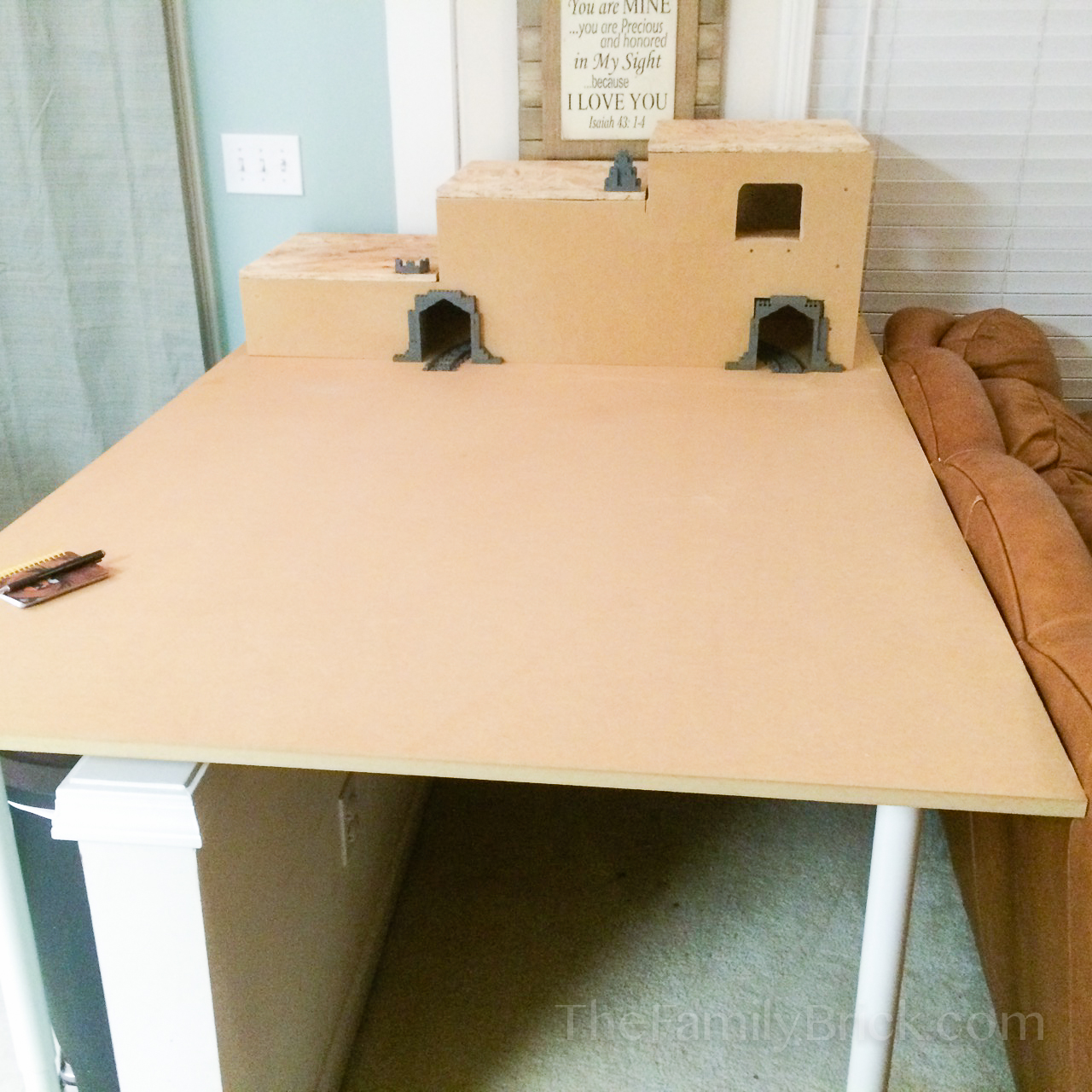 No, it is not. We started building this mountain before we learned about building up and out with Duplo bricks to reduce the weight of the build. So we built a stair frame made of pressboard to create the three levels you see in the mountain.
What Sets Did You Use In Your Build?
At the time we were building this MOC, we collected all the LEGO Winter Village sets except for the LEGO Creator Winter Village Toy Shop 10199 (2009), so when you look at our build you'll find:
We also used several polybag builds in some shape or manner:
Other things, like the hockey rink, the ice skating rink, the stands, benches, forest, etc… were all elements we created ourselves.
How Many Pieces Did You Use?
Good question! That we don't know… As I mentioned above, we only started this MOC as a personal project. So we weren't particularly concerned about the number of pieces in our set. However, we can tell you there are at least 8315 pieces in this MOC, between everything listed in the sets and the additional bricks we purposefully counted when purchasing to check cost effectiveness when making the mountain.
Where Did You Get Your Train?
Our train is a combination of the LEGO Harry Potter Hogwart's Express and the LEGO City Passenger Train. We were having trouble finding a Christmas-y looking train and the price of the LEGO Creator Emerald Night Train was too rich for our blood. So we created a mashup train with the engine of the Hogwart's Express and the passenger car of the City Passenger Train.
We also liked the gift car from the LEGO Make & Create Holiday Train, so we made our own version to match the colors of our train.
How Did You Power The Train and Ski Lift?
We used Power Functions to control both the train and the ski lift. The LEGO City Passenger Train comes with a battery box, motor, infrared receiver and 8-channel, 7-speed, infrared remote control that controls up to 8 trains. We purchased an additional LEGO Power Functions IR Receiver and built it into the ski lift building. We then programmed the remote to control both the train and the ski lift.
The Winter Village Build Close Up
For those of you that missed Celebricktion, here is a close up of the build. Make sure you click on the first image and scroll through the slideshow so you can see all the images large and up close:
We hope you enjoyed getting a close up view and the inside scoop on our LEGO Winter Village setup!
What large MOCs are you working on?