The August 2015 LEGO Monthly Mini Build looks surprisingly like a squirrel, but in reality it's a kangaroo! I was fairly far off the mark with my initial reference.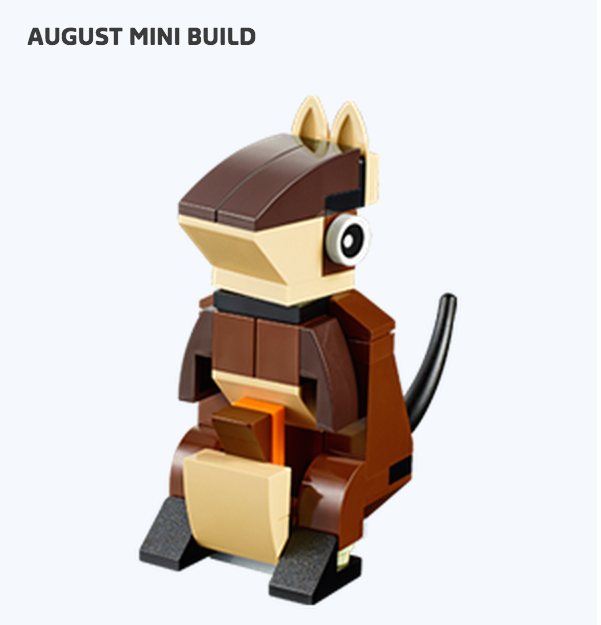 In my defense, if you look at the picture from the mini build website, you could easily mistake what's in the pouch for nuts. (Just give me this one and go with it…)
This cute little figure from down under is comprised of 49 pieces and was super easy to build.
One thing I loved about this mini build is the little baby kangaroo sitting in the mother's pouch. Super adorable touch… although I know the girl will misplace the baby soon.
If you're interested in building one of your own, above is the LEGO parts card showing the pieces for this set. There are a number of LEGO parts you probably won't find in a regular bucket of LEGO bricks, but you can probably piece this together in a different color from other sets you've purchased.
If you need a downloadable parts list, you can grab one from Brickset. You can also download the instructions for the August 2015 LEGO Mini Build Kangaroo here.
Also, just a note on registration for the October LEGO monthly mini build registration: LEGO has changed the date again and registration now opens on September 15th at 9:00am EST. More on that later…
How did you like this month's mini build? How was your in-store build experience?