At the beginning of this year, LEGO released a bunch of new sets. If you read our LEGO Second Christmas blog post from last month, you'll see we picked up quite a few. While we are very happy with everything we picked up, one of the new sets was extremely delightful… the LEGO Friends Party Cakes set (41112). And if you ask anyone, this is also affectionately known as "the pug set"…. You'll see why shortly.
While it is a small box it is full of so much fun! Can't you tell from my daughter's face just how excited she is to build it?
I don't always get to do this, because the girl is so anxious to get to building, but I was able to take a few photos of the set while we were putting it together. I wanted to share with you what you will find in the box.
(Don't mind the girl… she photobombed me the whole time I snapped photos.) When you open the box, you'll find an instruction pamphlet, 2 bags of bricks and a 6 x 6 curved plate in lime green. There's not much there, because it's a super simple set. It won't take you but 30 minutes to put this one together… if that.
There are 50 pieces in the set. This box retails at $4.99.
The very first thing anyone is going to gravitate towards is this sweet little pug. The girl immediately put a party hat on him (brand new piece alert!) and started to play. I almost had to remind her she still had a set to build.
I actually didn't need to help the girl build this set at all. She had an easy time following the instructions and putting it together. Since she is at the starting age range for this set, I was glad to see this was true for her.
When all was said and done, we had a cute, adorable and colorful vignette with which to play.  We loved all the details and specialty tiles. While the balloon, and cakes are lovely, above all, the party hat was my absolute favorite piece from this set.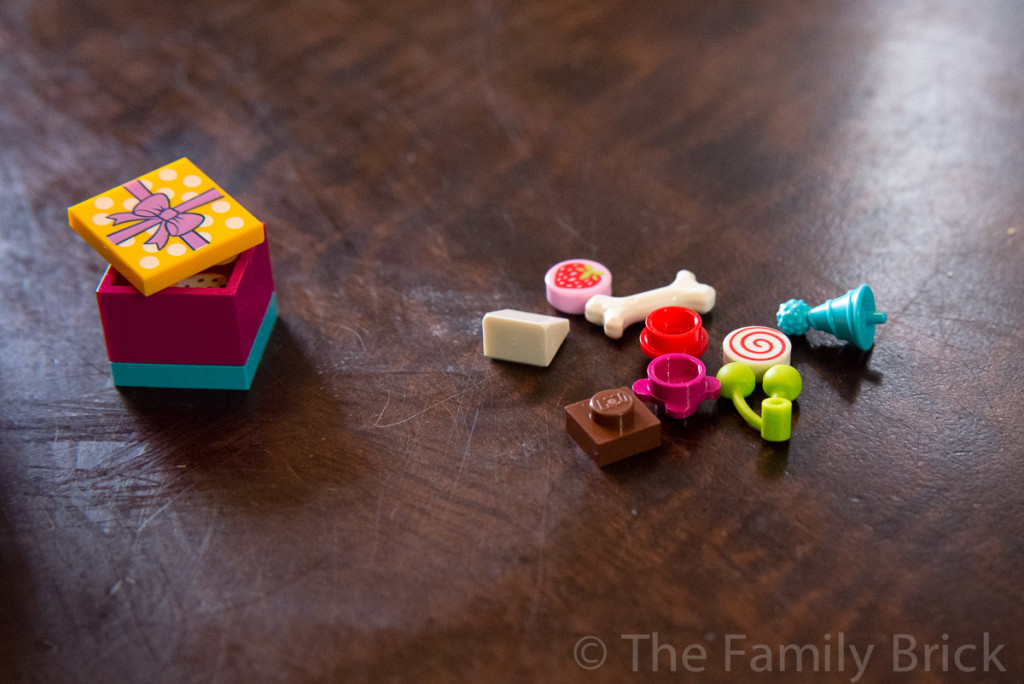 And after the set was assembled, we ended up with a handful of extra pieces, including a strawberry tile, candy tile and another party hat! The gift box was not extra… the girl just pushed it into the shot.
As for the LEGO Friends Party Cakes set, we highly recommend it!
Did you pick up the LEGO Friends Party Cakes set? What was your take on it?