Yes, I know that all the hoopla lately has been about the LEGO Star Wars May the 4th Be With You events, but I have some fun news for LEGO Elves lovers. Hurrah! I'm happy to announce what I believe is the very first LEGO Elves Building Event at stores on May 7th!
I must have missed this event when I looked at the May 2015 LEGO store calendar earlier this month. By the time I walked in, the signup sheet was 3/4 of the way full. It looks like there are 40 spots per store for this event.
Details on the LEGO Elves Building Event
On the back of the May 2016 LEGO calendar, there is this blurb about the event: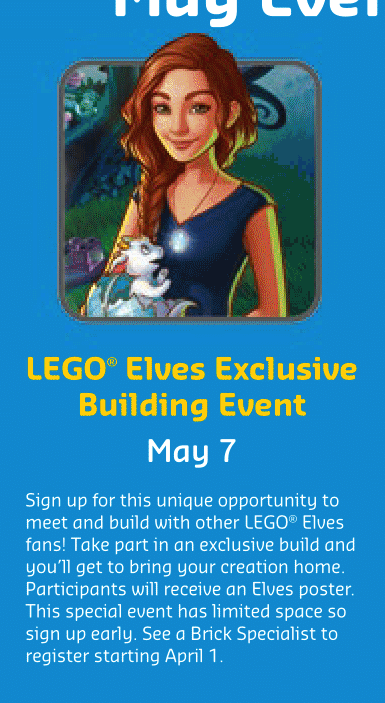 If you can't read it, here is the description:
Sign up for this unique opportunity to meet and build with other LEGO Elves fans! Take part in an exclusive build and you'll get to bring your creation home. Participants will receive an Elves poster. This special event has limited space so sign up early. See a Brick Specialist to register starting April 1.
We're super excited about the build and are looking forward to building.
 Are you planning on attending the LEGO Elves Building Event?