If you remember, we picked up one of the LEGO Disney Elsa's Sparkling Ice Castle sets on January 1st. The Little Brick couldn't wait to build it, so we started into it right after nap time.
The set is rather small for my tastes, with only 292 pieces total. At a price tag of $39.99, that comes to 13 cents per piece. I was hoping it would be the large set for all the princesses in the releases this year, but that is not the case. (If you're looking for a large LEGO Disney set to build, you'll want to look at the LEGO Disney Ariel's Undersea Palace set.)
Regardless of size, the The Little Brick loves it.
I started to notice last year, we have this habit of letting The Little Brick start building, but when she cries for help, we swoop in and save the day. Most of the time, we ended up building the sets ourselves.
This time, I drew the line. I feel she has worked with enough LEGO sets and bricks that she was capable of building an item of this level… regardless the number of plates or tiles she might encounter. Not to mention, I saw exactly how great of a teaching tool the LEGO Friend's Advent Calendar turned out to be, I couldn't pass up the opportunity to reinforce numbers and the skill of following instructions, attention to detail, etc…
So with this set, I decided it was time she build it with light-handed supervision. As I mentioned, we started building on the night of the 1st. It took her about 2-3 hours to build the first level. Not because she was slow, but because she found it hard to focus and would immediately start playing with an item from the set once it was built. Her imagination would run wild, so I just let it. After all, I was only there to help guide her, not build and if she wanted to play a bit, it was okay.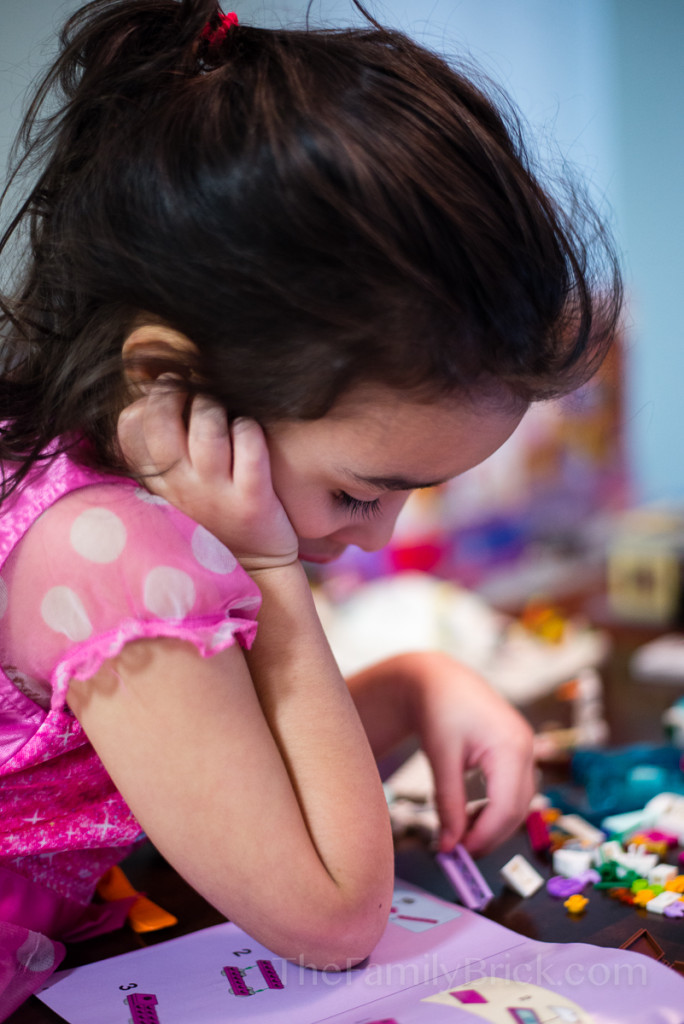 We did run into several tantrums as well. The whole "Argh! I can't do this!" cry came up a lot. But I found some simple reassurance, patience and the occasional "ok, then we can put this up and try again another day" were enough motivation to get her back on track.
After a session of restraint on my part of pointing out the numbers, reminding her what part she was on and pointing out things she might be missing in the build, I was exhausted. At that point, we called it quits until the next morning, when we would tackle the next 2 levels.
These, fortunately, were quicker to build. I suspect this had a lot to do with the fact the Elsa minifigure doesn't get built until the 3rd bag… and I wasn't letting her jump forward just to build her. So she paid more attention to what she was doing. I found her skipping ahead a few steps, because she would see something in another build picture she recognized and immediately start building that… not by the book, but from what she saw of it. It's nice to see the beginnings of a potential master builder… a skill I do not currently possess, but definitely something she can share with her daddy.
All in all, the build is rather nice. I feel it lacks in a few things… For instance, I would have liked to see the stair case easily click in under the second level. It would have been fun to have a large snow monster with this set as well. Maybe in the future they will give us a Kristoff minifigure with the snow monster.
I would have also liked to see Elsa's hair a little lighter in color and her braid leading off to the side. That's a complaint a lot of other people seem to have about the set minifigures.
What do you think of the set? Have you built it yet or do you plan on skipping it?