It was a few months ago that someone forwarded me a video from The King of Random on how to make LEGO Gummie candies. (If you haven't seen it, you should check out the video above. It's really awesome.)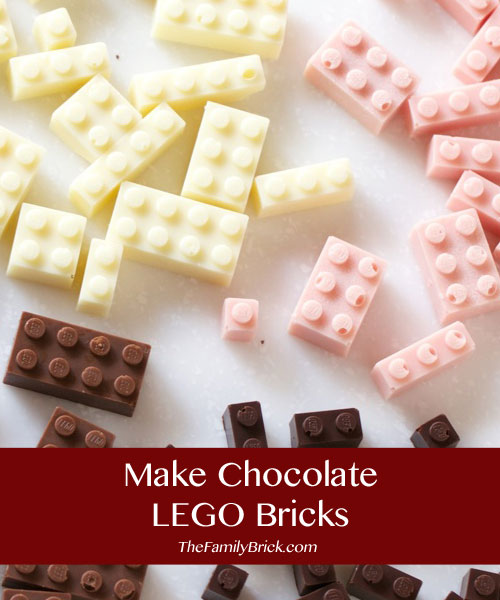 However, it looks as if someone took it one step further and used it to make chocolate LEGO bricks!
These chocolate LEGO models were made by Akihiro Mizuuchi. While he doesn't provide instructions, he does give you a photographic sneak peek into his process of making the chocolate LEGO bricks:
How awesome is that, right? If you want to make your own chocolate LEGO build, you'll need to make a LEGO brick silicone mold and melt chocolate to make chocolate LEGO bricks. Unfortunately, the premade LEGO silicone molds won't cut it for building, but if you're just looking to eat your food and not play with it, that would reduce your creating time considerably.
How to Make a LEGO Brick Silcone Mold
I'd walk you through the process of making a silcone mold out of LEGO bricks, but there is already an excellent Instructable describing how to make the silicone mold. The only thing they missed from the video above is showing you how to create the stud holes on the bottom so that you can actually build with the gummies.
Basically, it entails placing a base plate on top of the filled silicone mold and then placing a book on top of that to hold down the plate and ensure the studs make an impression in the gummie itself. The video shows it more clearly, so I highly suggest you give it a once over.
How to Make Chocolate LEGO Bricks
A Beautiful Mess has a great post with tips on melting chocolate for molds; however, for our purposes, there are two important points to take away from their post:
To make chocolate LEGO bricks, you'll need to decide whether you want to melt regular chocolate or use candy melts. Candy melts already come with a portion of palm oil to give them that glossy finished look. So if you want to use regular chocolate, you can, you just need to remember to add a tablespoon of some type of oil to the mix to give them some shine.
When filling the molds, unlike with the gummie syrup, you'll want to make sure you don't overfill the mold with chocolate. The gummies shrink as the syrup hardens, but the chocolate doesn't. This means if you overfill, you may find yourself needing to scrap off some excess chocolate to get clean LEGO brick lines.
Of course, these are just my observations, as I haven't tried making them just yet. My house is a hurricane of LEGO parts, so I don't have much space for experimentation these days.
However, if you try making your own gummie or chocolate LEGO bricks, please let me know! I'd love to see how they turned out.
Now who's going to try these this weekend?