In the back of the May / June 2016 LEGO Juniors magazine, you'll find a LEGO Juniors Summer Fun Building Contest. I suspect this particular contest is open to kids ages 4-7 since it was found in the LEGO Club Juniors magazine, but they don't specify anywhere, so it may be open to kids from 4-14, but don't hold me to that. Either way, this contest is a great way to get the summer fun rolling.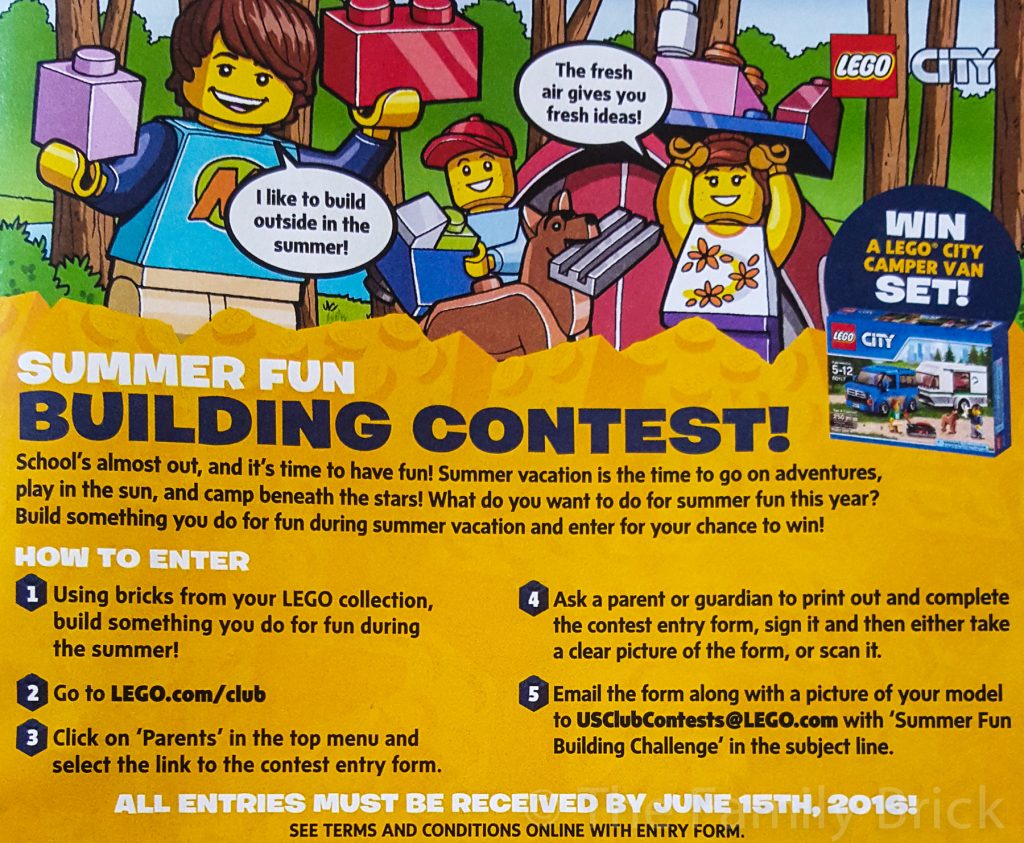 We tried our hand at one of these contests last year and while we didn't win, the process of entering was a lot of fun for the girl. If you can't read the information above, this is what it says:
Summer Fun Building Contest!

School's almost out, and it's time to have fun! Summer vacation is the time to go on adventures, play in the sun, and camp beneath the stars! What do you want to do for summer fun this year? Build something you do for fun during summer vacation and enter for your chance to win!

How to Enter

Using bricks from your LEGO collection, build something you do for fun during the summer!
Go to LEGO.com/club
Click on 'Parents' in the top menu and select the link to the contest entry form.
Ask your parents or guardian to print out and complete the contest entry form, sign it and then either take a clear picture of it, or scan it.
Email the form along with a picture of your model to USClubContests@LEGO.com with 'Summer Fun Building Challenge' in the subject line.

All entries must be received by June 15th, 2016!

See terms and conditions online with entry form.
We haven't built anything yet for it, but the girl is excited to participate. When we do get something built, I'll make sure to come back and update this post, or make mention of it somehow in a new post.
Did you and your kid build something? Leave me a link to your photo below!