Do you ever feel left out as you watch your kids assemble the LEGO Monthly Mini Builds? Do you wonder why there is nothing out there for you… the 14 and over crowd? Well, be sad no more! If you haven't heard, Barnes and Noble stores are hosting AFOL Architecture Events from January 16 to 31! If you love to build and are bummed you can never do a LEGO store mini build, this is the event for you!
First off, you're probably wondering "AFOL what?" Well, it's as simple as this. AFOL stands for "Adult Fan of LEGO". If you're reading this blog, you are most likely an AFOL… or at least a closet AFOL, masquerading behind the "Oh, I just buy these sets for my kids" excuse.
Details on Barnes and Noble AFOL Architecture Event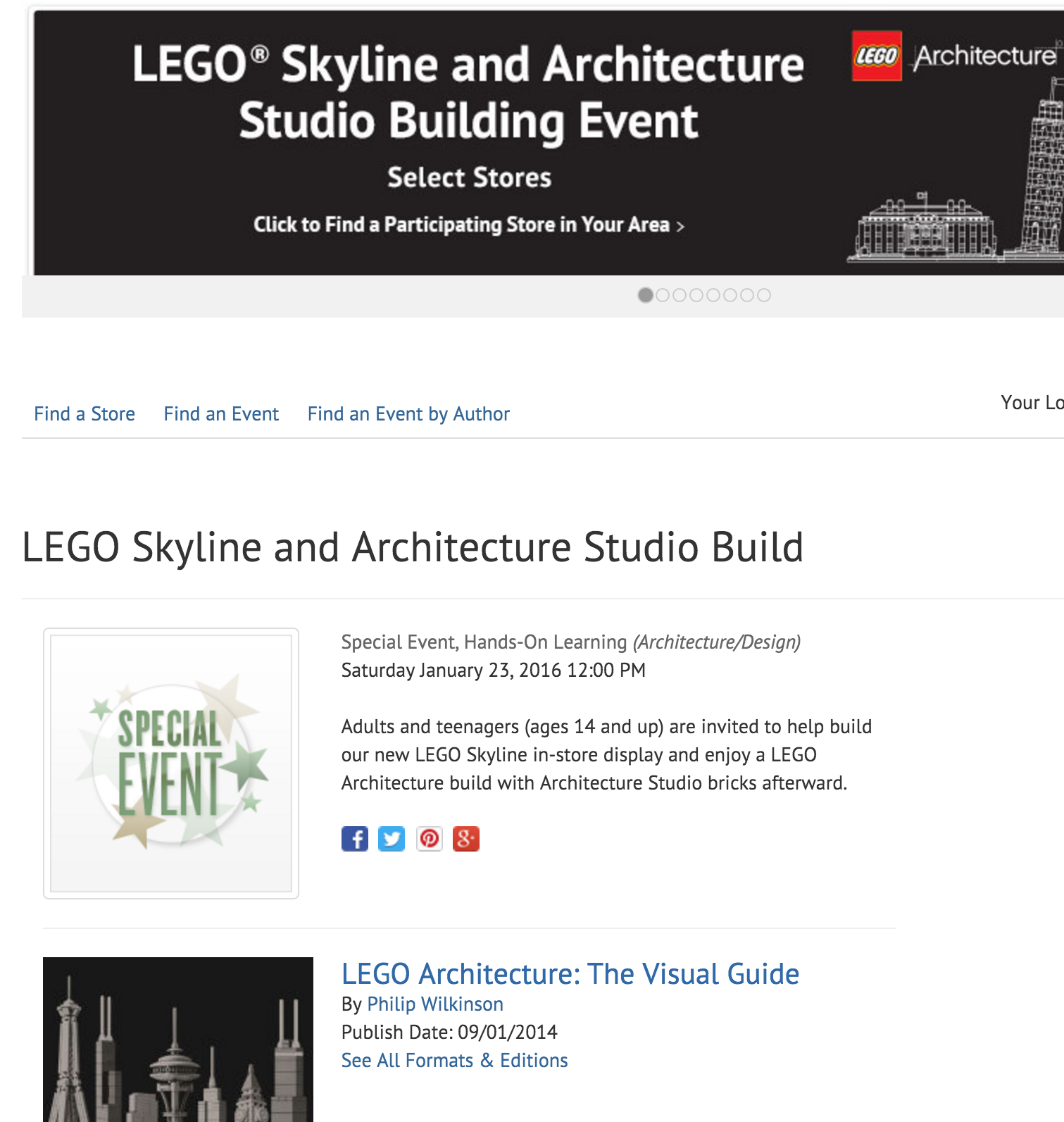 There's not much information on the event site for Barnes and Nobles, but they do have the following description listed for each event date:
Adults and teenagers (ages 14 and up) are invited to help build our new LEGO Skyline in-store display and enjoy a LEGO Architecture build with Architecture Studio bricks afterward.
I'm assuming each skyline will be the skyline for the major city near your location. For example, I suspect we will be building the Atlanta skyline and probably get a micro Atlanta skyline to build and take home. Again, just speculation.
Get Dates For the Nearest AFOL Architecture Event For You
So you want to get in on the action, right? You can check out the available dates, times and location for your area using the Store Event Locator. You'll need to change the location of the event to match your own. Once you do, you'll get a listing of the dates and times for the events in your area.
Are you excited? I know at least one reader who probably is very excited.
We're planning on attending the Barnes and Noble AFOL Architecture Event, even though we have our next DixieLUG meeting the same day. How about you?