Oh yes my friends… it's that time of year again, it's LEGO Second Christmas!
Well, there's no such thing as a LEGO Second Christmas. It's what I call January 1st, the time of the year when new LEGO sets are released and we flood the stores to pick them up with our Christmas money burning a hole in our pocket. You get to buy those sets you most desired, but didn't find under your tree. That's why I affectionately term the time "LEGO Second Christmas".
Last year, we stayed in and made it to the store rather early. This year, we stayed in as well, but didn't make it to the store quite so early. Our dog had an accident around midnight and it took me about an hour to clean up. Our new pooch is a skiddish one and fireworks had him running around the house like crazy. I forgot how dogs can react to the pops and failed to put him in his crate, which really calms him down. So I got to welcome in the New Year cleaning up a bunch of pee… it was lovely… not.
Anywho, we were up late for all the wrong reasons and ended up strolling into our area's second LEGO store some where around noon. It's not the second in this area – it was actually the first. However, this is the store that is about 45 minutes away from us. For us, it's our second choice when visiting a LEGO store.
Despite that, we've started visiting the store more frequently, because as the original main store, it is huge. They carry all the sets *and* still have space to display discount bins. (This is where they have all the sets with banged up boxes they discount by 10% to get them sold.)
We tend to find some good deals in the bins when we go, so we thought we should visit that store first this year. After that, we visited our store as well, because we wanted to say hi and wish everyone a Happy New Year. We hadn't been to the mall since the VIP event which was toward the end of November. (Once the holidays start, I like to avoid the crowds if at all possible.)
So between the 2 stores, we walked away with the following haul: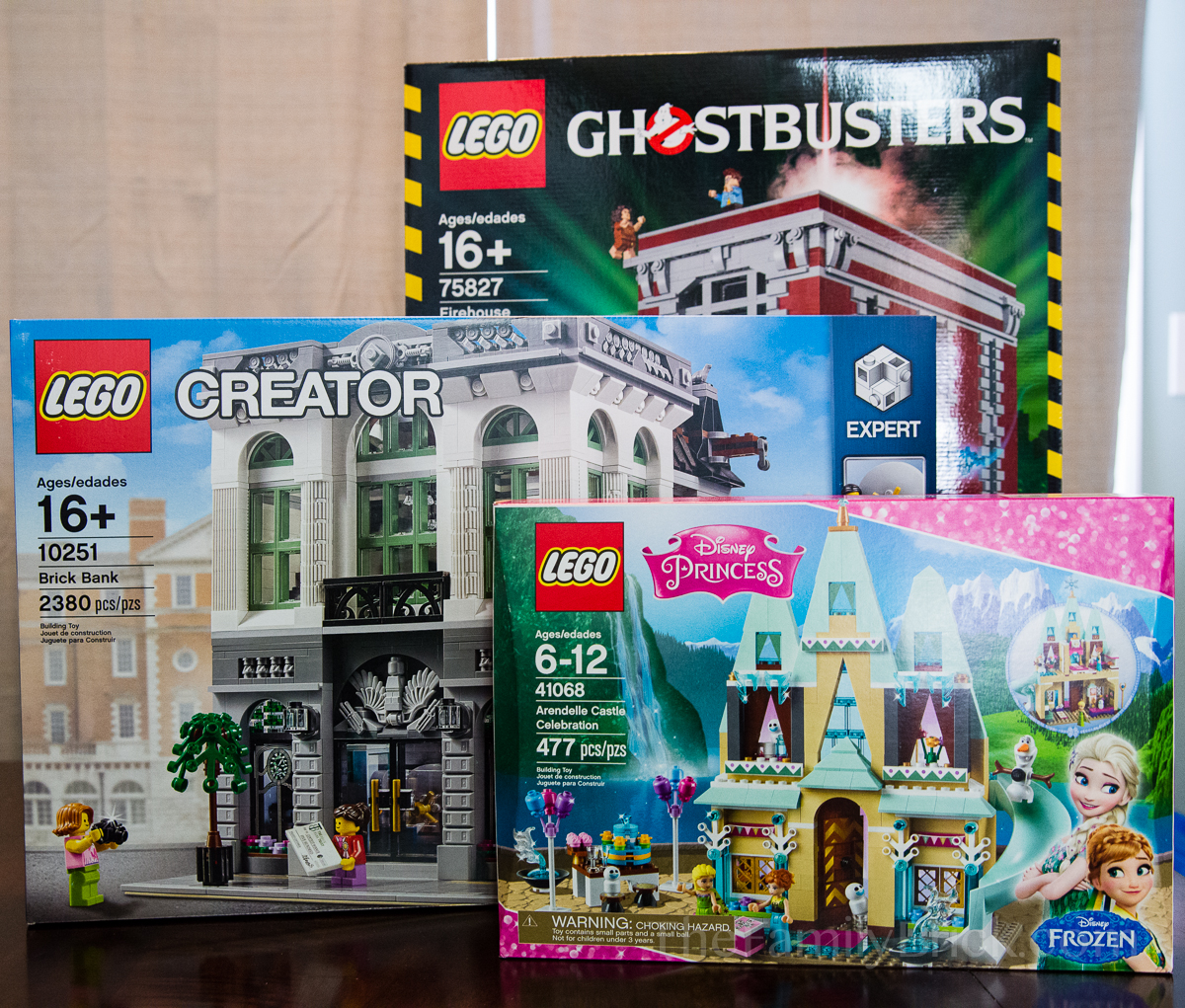 Yes, it was that big I had to take two photos to show it all. In case you still can't see everything, these are the sets we picked up. (These are all affiliate links. They are no cost to you, but help out our site.):
I know it seems like a lot, but you should know some of these items are for resale and others are for us to gut for use in our Winter Village MOC. We also held off on purchases last year. The house is just a bit too insanely crowded with all the LEGO sorting we've been doing. We almost didn't get the LEGO Creator Brick Bank, because we've run out of shelf space. Once we build it, I'm not sure where exactly our town is going to go. That's for another post, though…
Another reason we made a big purchase is because we did really well selling the LEGO parts we selected while sorting. I would love to get to the point where selling LEGO would replace a large majority of our job income, so I could have the husband home all the time. We learned much this holiday season and plan on applying it to next year's sales. Wish us luck!
As for some of the smaller sets we picked up, those were purchases by the girl. She's starting to learn the value of money and have begun an "earnings" program in the house. Those 3 smaller sets were her first encounter with actuallying having to use her "hard earned money" (which actually means all she did was pick it up off the floor when it fell out of our pants.) There were tears as she handed us her last $5.00 bill for her 3rd set. I felt a mixture of sadness and pride. I'm learning sometimes lessons are just as hard on the parents as they are on the kids.
Anyhow, we're super happy with what we picked up. If you haven't picked up anything yet, you should make a visit this weekend! There's tons of new sets to see.
What did you pick up from the store this new year?